Let the Cristallo modular sign system deliver your message with crystal clear clarity. This beautiful and flexible system complements building interiors with stylish simplicity. As a result of ID Signsystems research of the needs of designers for high quality, flexible modular sign systems, the Cristallo sign system is an elegant and versatile environmental graphic solution that features satin stainless steel stand-off fittings and single or double panel sign faces in glass or glasses affect 3030 acrylic. Cristallo features five different wall mount shape options, together with a suspended fitting, a desk and unique projecting bracket, and a directory rail profile. Special finishes are available upon request.
The key to the success of Cristallo is its versatility. It can be used for many applications including as a sign system, directory, donor program, poster holder, menu, or exhibition display. The limits are only in the imagination of the design team. Cristallo adds a new level of sophistication to a variety of uses including directional signs, identity signs, donor recognition systems, poster displays and award holders.
Cristallo can also work with a variety of substrates including glass, ADA approaches, stone, wood or metal and materials can be etched, printed or contain paper inserts. Graphics for Cristallo can be permanently applied or can be easily created by the end-user using simple graphic templates printed onto acetate inserts (supplied free-of-charge as part of the system) making Cristallo both easy to install and to change.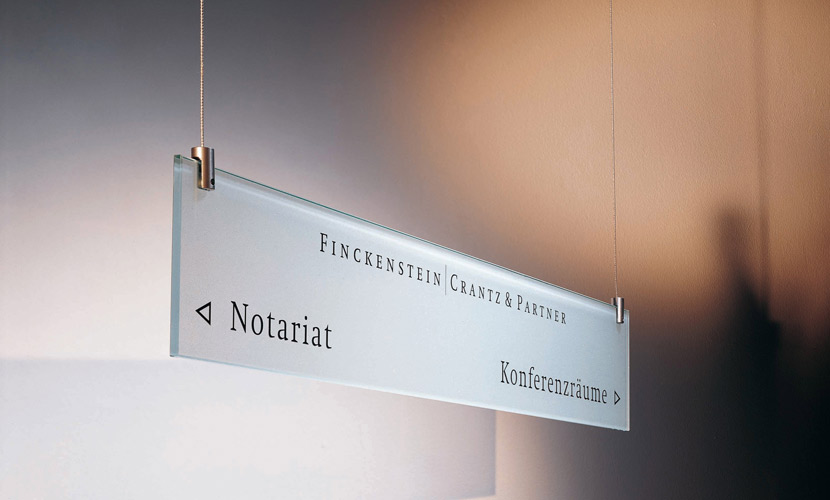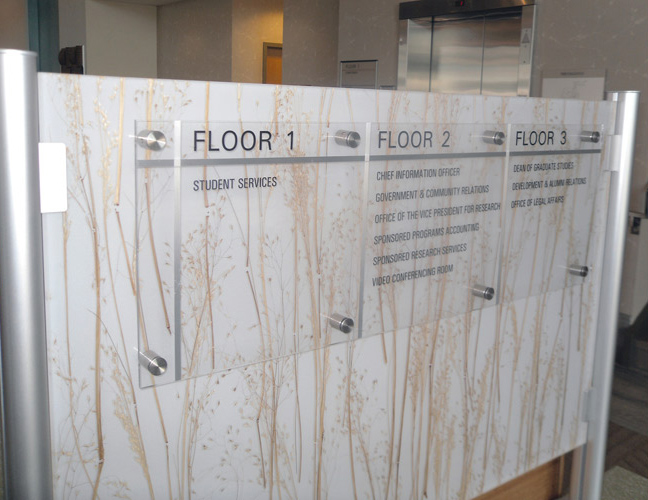 MATERIALS
Stand-offs: stainless steel barrels;all barrels have length of 3/4″
Panels: 2 pc. 3/16" thick or 1 pc. 3/8″ thick for maximum panel thickness; 2 pc. 1/8" thick or 1 pc. 1/4″ thick for minimum panel thickness; all panels available in tempered glass / acrylic

STANDOFFS
cr 2980: 1/2″ diameter barrel, flat head; requires one 3/8" diameter hole in panel(s)
cr 2981: 1/2″ diameter barrel, rounded head; requires one 3/8" diameter hole in panel(s)
cr 2982: 1/2″ diameter barrel, conical head; requires one 3/8" diameter hole in panel(s)
cr 2984: 3/4″ diameter barrel, flat head; requires one 3/8" diameter hole in panel(s)
cr 2985: 1 3/8" diameter barrel, flat head; requires two 3/8" diameter holes in panel(s)
MOUNTING
Wall mount: mechanically secured to surface of wall; hardware includes mounting screw, wall anchor, allen key and set screw

INSERTS
Printing methods: Ink Jet, Laser, Digital Print
Printable surfaces: paper, clear acetate, frosted polyester film

ADD ONS
Projecting bracket: stainless steel construction; accepts 1 pc. 3/16" thick panel (tempered glass / acrylic)
Suspension kit:s tainless steel barrels, 36" length steel cable; accepts 2 pc. 1/8" thick panels or 1 pc. 1/4″ thick panel (tempered glass / acrylic)
Desk stand: 1" length x 5/16" diameter stainless steel barrel
Our Latest Insights on Interior Signage
Let's Talk About Your Project