What is Design Facilitation?
Design Facilitation is a term used extensively in the fabricator community. It means the fabricator will support the designers in creation of their projects. A strong partner in design facilitation can provide feedback on the best approaches to an early concept. They can also provide advice for balancing budgets and meeting quality requirements.
The IDS Design Facilitation Approach
Value Engineering
Value engineering is not just about saving money, but clearly articulating the value of design decisions on projects. When a designer starts with a vision and a clear design brief, IDS can provide recommendations. These recommendations can include the best place for durable materials, connection details that can save money, and even small size modifications that can result in material savings. By getting IDS involved from the beginning we can offer the most value, but we also have the ability to adapt to pre-approved plans.
Mockups and Prototypes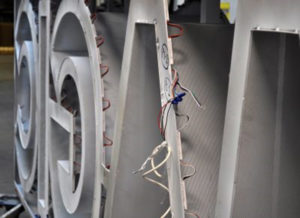 A design does not become real until it can be tested in the world. IDS incorporates material samples, mockups and prototypes into the facilitation approach. This technique ensures clarity of final vision with the designer. This is especially important with lighted signs. Viewing these signs in both day and night settings is critical.
Mockups and prototype tests are among the most important approaches to ensure the final project will reflect the designers plan.
Documentation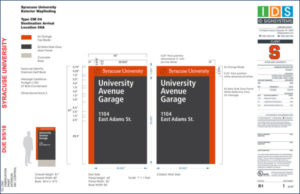 Designers can provide many levels of documentation: from simple conceptual drawings to complete bid-level construction documents. No matter the approach, IDS provides complete shop drawings that outline how the sign will be built. Included in the documentation are specifications on materials based on the final selection.
Construction
The facilitation process does not end with construction documents. IDS continues to provide clear communication through digital databases and photographic surveys on the final installed work.
IDS uses cloud-based message schedule software to track final sign placement on message schedules. 
Design Facilitation Partners
Through the years, IDS has had the privilege of collaborating with architects, environmental graphic designers and end users. While our process is simple – Plan, Design, Engineer, Manufacture – our results are anything but ordinary.
Some of our most recent partners include:
For more information on partnering with ID Signsystem, please contact us today!
Let's Talk About Your Project