Simple elegance combined with high functionality is the essence of the Change sign system. With the sleek system a slender profile combines an acrylic cap bar with an anodized aluminum finish for an elegant understated sign. The Change sign system can also be customized by adding color to the thin cap bar. And it is adaptable to nearly any environment, with inserts that can be produced on almost any printer and to make changing them quick and easy.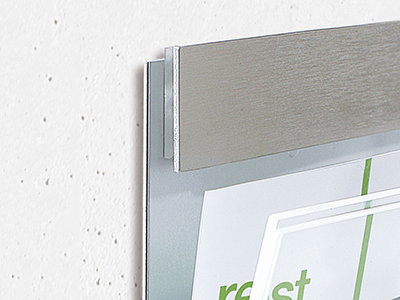 MATERIALS
Base plate: 1/16" Thick aluminum construction
Lens holder: brushed aluminum face
Lens: 1/4" Thick optically clear acrylic

INSERTS
Printing methods: Ink Jet, Laser, Digital Print
Printable surfaces: paper, frosted polyester film
MOUNTING
Removable double-sided tape: suitable for most wall surfaces
VHB double-sided tape: provides extended security and is suitable for mounting to glass
Countering holes: designed to mechanically secure sign to surface of wall
Our Latest Insights on Wayfinding & Identity Systems
admin
Your signage is an investment worth protecting. Signs serve as guides, greetings and information providers to your guests. Without them you may leave a first impression that can't be repaired.
admin
IDS has built its entire philosophy and business structure around changeability in signs. From our modular products to our documentation methodologies, change plays a central role in what we do.
admin
Our planning and design process is built under the certainty that a hospital wayfinding program must survive a generation of changes while maintaining consistency and usability. Learn more about each step.
Let's Talk About Your Project