Sign Companies & Architects: 4 Important Considerations When Selecting a Design Facilitator
The roles of architects and building planners in designing and crafting new buildings usually include considerations for the building's signage. This is especially true if the signage is considered a landmark piece, involves developing a new brand, or is included in the building's design.
Just as the building itself is designed with precision, the signage must also be designed to precisely bring the architect's vision to life. Selecting the right sign company to take on this responsibility is essential and must be chosen with consideration.
1. Experience and References
First and foremost, it is crucial to choose a sign company with proven experience in the type of signage the architect has designed. A sign company's work should be displayed on their online portfolio, but it goes beyond what is shown online. To fully understand the signage company's work, it is crucial to view their work in person and interview the company.
Secondly, sign companies should have references readily available. Don't short-cut contacting references. Hearing first-hand from clients is one of the best ways to learn about a company you consider working with.
Lastly, communication is critical in vendor relationships. Experienced companies with an established reputation are more likely to offer transparent communication and timeline management.
At IDS, building solid, trusting, and dependable relationships with our vendor partners matters to us. We've been lucky to work with some of the area's top architecture firms, and we continue to partner on projects because of the solid relationship we've forged. These partnerships have endured because we meet or exceed expectations.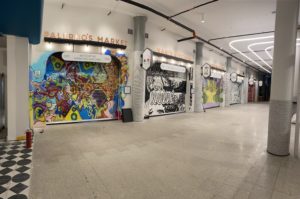 Mercantile on Main, Rochester, NY
IDS works with various design firms, but one area we particularly excel in is collaborating with branding organizations. For Partners + Napier, a renowned creative agency, we supported their vision for a brand identity for the famed Mercantile Building in downtown Rochester, one of the first department stores in the country.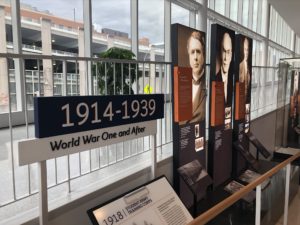 The National Veteran's Research Center, Syracuse, NY
The National Veteran's Research Center (NVRC) Donor Recognition Wall & Exhibit is a comprehensive sign, graphics, donor recognition, and exhibit program IDS completed for Syracuse University. Working with the architectural facilities team from Syracuse University and experiential designers Entro, IDS produced this complex solution that called for meticulous attention to detail and complex site coordination to ensure the design intent was reached.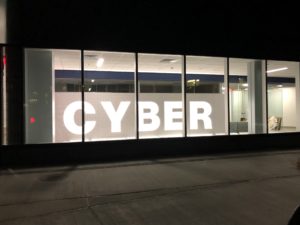 RIT's Global Cybersecurity Institute, Rochester, NY
IDS was awarded contracts directly with RIT for its exhibit requirements and General Contractor LeChase Construction for major architectural elements, custom lighting requirements, and wayfinding signage. IDS worked particularly closely with the Project Architects LaBella Associates to realize their design intent of key features such as the main entrance, building identification, custom glass treatments, and wayfinding signage of the new Global Cybersecurity Institute.
2. Fabrication
Truly great signage contractors handle fabrication in-house. These can be signs designed by an in-house team or those designed by external firms. IDS specializes in design facilitation, where we apply our expertise in fabrication, documentation, and project management to the designer's process. We employ an in-house design team, a sign engineering team, and a team of skilled fabricators.
3. Full-service
Aside from in-house fabrication, the best signage companies are those who "do it all." From planning and engineering to design, fabrication, and installation, a company that manages all facets of sign productions truly understands how a seamless process works and the requirements – and nuances – of each part of the process. A full-service company will also view their clients as partners, not "just another job." This is very important for large and complex projects.
4. Diversity Component
Working with diverse businesses can provide tax benefits. The federal government affords tax incentives for doing business with minority and women-owned businesses. IDS is a proud WBE sign company registered in New York state, and we provide proof of our WBE certification to our clients for contract compliance.
Firms that work together must be compatible and build long-term partnerships that deliver exceptional work. Architects, planners, and general contractors need an experienced, highly reputable, full-service sign company to bring their visions to life.
ID Signsystems is a full-service sign company poised to work with architects to plan, design, engineer, manufacture, install, and maintain architectural landmark signs. We're industry leaders in performing and delivering end-to-end sign solutions for projects of all sizes.
Let's Talk About Your Project