Sign Maintenance Program: Campus & Healthcare Signage
An often overlooked area of sign development is the implementation of a sign maintenance program.
Like any other part of a building or campus, signs must be cleaned, changed and repaired. Systems that look great on the first day of installation can degrade quickly.
Your signage is an investment worth protecting. Signs serve as guides, greetings and information providers to your guests. Without them you may leave a first impression that can't be repaired.
IDS is careful to consider ongoing maintenance and support needs while designing signs, paying special attention to the following strategies:
The Importance of Durability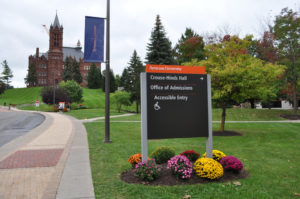 For a sign to be easily maintained it must be built to handle frequent cleaning and repair. IDS develops sign packages around this idea by specifying higher grade materials in sensitive areas. This helps to balance short term cost and long term value.
We also try to bring in modularity wherever possible to ensure that signs can be quickly repaired or replaced when damaged.
At Syracuse University, the use of modular approaches and durable systems produced signs that are simple to maintain.
In-House Sign Maintenance Program Guidelines
Many of the basic maintenance tasks can be managed by in-house staff. IDS creates guidelines for internal maintenance to ensure signs stay clean without too much wear. It's important to consider the use of non-caustic cleaning approaches that can extend sign longevity.
The IDS Sign Maintenance Program
As part of our guidelines approach we create a customized kit for each client.  IDS uses the kit to quickly replace or repair damaged sign parts. Additionally, easy-to-access guidelines and contact with IDS simplifies an ongoing sign maintenance program, particularly with staff changes.
IDS prides itself on being a partner to each of our clients' projects from start to finish. After all sign production services are complete, IDS can support all ongoing maintenance including cleaning, repair, replacement and system expansion. Contact IDS to see how we can help your next project!
Let's Talk About Your Project