When Brand, Design and Fabrication Collide
Developing a new brand, or rebranding an existing one, is an exciting undertaking. Once a brand's logo, elements, and standards are developed, it's time to bring the designer's vision to life. A brand is socialized with employees and external audiences by how it is infused into its environment. Signage plays a significant role in introducing and increasing a brand's visibility.
The design team at IDS has extensive experience interpreting brand standards and working collectively with brand agency counterparts to manage the debut of brand environments.
Brand Assimilation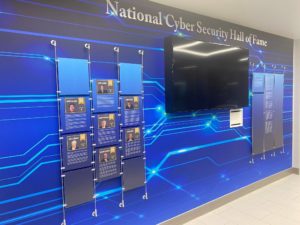 Our work with nationally recognized design professionals LaBella Associates for the Global Cybersecurity Institute at Rochester Institute of Technology resulted in a remarkable example of assimilating brands into the environment. 
IDS fabricated a collection of elements that closely matched the expected design, meeting the intended tone of the spaces, while also providing value engineering services to support budget and timeline commitments.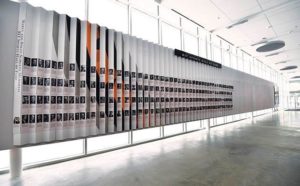 Another dynamic example of brand assimilation is shown in our work with Entro for the Gene Polisseni Center at the Rochester Institute of Technology.
Entro developed an engaging brand environment for the athletic center, including full-scale graphics, wayfinding signs, donor panels, and interpretive elements. These elements used dynamic lenticular printing to capture RIT's vibrant orange color and tiger brand. IDS facilitated the design, focusing our fabrication efforts on explicitly matching the designer's intent.
International Applications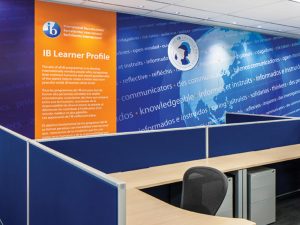 Our national and international partnerships also help us ensure the correct application of a brand standard. Working with International Baccalaureate, we developed large-scale vinyl appliques and illuminated sign elements that met the organization's strict brand guidelines for their world business centers in Washington, D.C., Geneva, Switzerland, Cardiff, Wales, Buenos Aires, Argentina, and Singapore.
Together with international interior designer David Bulleid, local regional architects, and international installation companies, IDS delivered a robust and sophisticated brand concept tailored to each location's environmental and cultural influences.
2D to 3D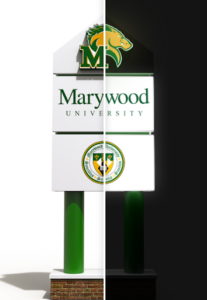 Another aspect of brand delivery is specialization in translating 2D graphic branding packages into full-scale 3D brand-focused sign systems. We utilize specialized software to produce digital renderings that provide accurate and detailed representation, transforming a 2D drawing into a robust 3D image, including illumination and digital elements that may be part of the sign's intent. The client gets a near-exact picture of how their finished sign will look. 
Additionally, IDS can manage the 3D representation of a brand standard through a complete range of internal and external environments. 
For a new landmark sign marker for Marywood University, IDS fulfilled the school's vision starting with simple sketches and then with full renderings that showed how the sign would look during the day and at night. The visual translation from 2D sketch to on-screen 3D image enabled the University to make a precise and informed decision for their investment. 
Fabrication work for The Mercantile on Main is another example of how IDS can translate a design vision into a physical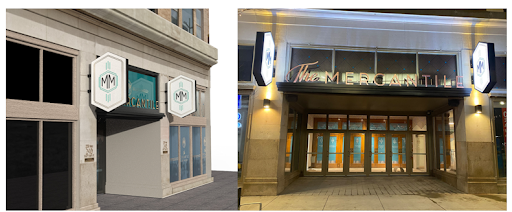 environment. 
Working with creative agency Partners + Napier, we supported their brand vision for the famed Mercantile Building in downtown Rochester, NY. 
IDS first created 3D visualizations of interior and exterior signs and environments from the design firm's work, which helped to accelerate final design decisions for scale, material use, and historical context.
Beautiful signage starts with a beautiful design. IDS is a strategic partner for brand assimilation and design facilitation with proven experience across several high-profile markets. Take your brand from vision to reality with IDS. Learn more about our design facilitation services.
Let's Talk About Your Project