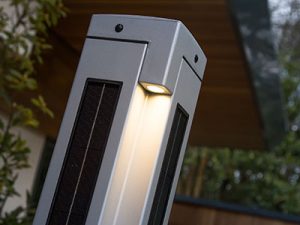 The time has come for incorporating solar products into the fabric of society. Evolving from the perceived status of "a cool concept that is impractical", advancements in technology have enabled implementation of solar-powered devices on a broad scale. In regard to the Solarpost product offered through ID Signsystems, not only is it surprisingly easy to install this solar-powered lighting system, it is strategically advantageous on multiple levels. Compared to the outmoded hard-wired systems of the past, Solarpost is far less environmentally disruptive (no trenching required) and less costly to install and maintain.
Going Green: No Longer a trend, but a way of life
On a global scale, there has recently been a dramatic shift toward use of solar power. While it was once cost-prohibitive to work with, technological advancements have eliminated that obstacle. An increasing number of manufacturers are involved in the design, refinement and mass production of solar devices, resulting in superior products available at lower cost. Growing public concern over the long-term environmental health of our planet has clearly contributed to more widespread use of solar-powered products. Many corporations, universities and healthcare facilities prioritize sustainability as a high-value concern when planning new installations or enhancements. This is no longer a fashionable trend, but has evolved into the preferred way of doing business.
A clear demonstration of your commitment to sustainable solutions
When clients or other visitors set foot upon your grounds, an immediate impression is formed in their minds. They make value judgments based upon many visual cues: cleanliness; aesthetics; security; lighting; ease of wayfinding; and more. The various elements that make up your environs tell a story about your history and suggest future intentions. Outmoded technology or obsolete infrastructure project negative impressions, while sustainable, ecologically responsible elements present a much more desirable image. In the present era, a high percentage of your customers and visitors are sensitive to ecological issues and are drawn to institutions that demonstrate the same level of concern. How you impact the environment registers with the public, especially in high-visibility situations such as the condition of your grounds.
Building your brand with Eco-friendly products is smart business strategy.
Solarpost is a proven environmentally responsible lighting product which is strictly solar-powered. It is highly eco-friendly and that fact is visibly reinforced by the way it functions. Its internal mechanism governs the intensity of light each free-standing bollard emits, based upon approaching pedestrian (or bicyclist) traffic. The power is kept at low-level under normal (dormant) conditions, and the light intensifies only when triggered by oncoming traffic. Once they pass, the light dims again, thus conserving precious energy and intentionally limiting solar pollution. Observers witness this behavior and quickly understand that the internal 'brain' is responsibly regulating energy consumption. This clever self-sustaining process is at the heart and soul of the Solarpost product, and its judicious application of energy is on display for all to appreciate. Not only does the product save your facility money on installation costs and ongoing maintenance, but it provides the added feature of conveying your values of sustainability and environmental concern for everyone to witness.
Sustainable solar strategy, visible to your customers and visitors
At ID Signsystems, we have great confidence in the long-term economical viability of the Solarpost product. On our website, we have posted several articles illustrating its desirable features of proven reliability, durability, cost savings, and environmental sustainability. However, one benefit sometimes overlooked is the product's enduring positive impression upon customers, visitors and even your own employees. Solarpost is a revolutionary product that makes obvious contributions to safety and security on your grounds. It also makes a profound statement about your institutional values that include a dedication to ecological responsibility. This effective Public Relations benefit reinforces our contention that now is the ideal time to install Solarpost at your facility.
Contact an ID Signsystems representative today to learn more about Solarpost environmentally responsible lighting and how it can impact your public image! Email us at: contact@idsignsystems.com
Let's Talk About Your Project