Solar Sign Lighting Solutions for Outdoor Navigation
There's no doubt that solar lighting is a great solution for outdoor signage. It provides a number of important benefits and is especially useful in environments without easy accessibility to a typical power source.
Not only are solar signs environmentally friendly, but it's also a cost-effective long-term lighting solution. While the initial spend for solar lighting systems may be higher than traditional power sources, there is a significant cost saving on electricity and maintenance over time. In most cases, Return on Investment is realized sooner than one might expect! 
Illuminated signage not only provides visibility for navigation and information finding but also increases security in outdoor spaces. At ID Signsystems we utilize solar panels and a collection of solar-powered products for lighting various types of signage in a variety of applications: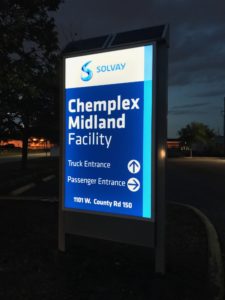 Depending on the size, type, and placement of your wayfinding signage, illuminating can be done in a variety of ways. Custom solar panels designed at an appropriate scale for the sign are an effective way to provide 'always-on' lighting for signs that need constant visibility and illumination.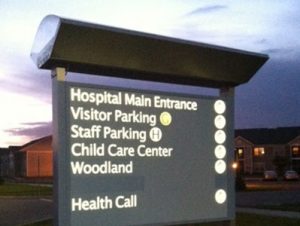 On Campuses—whether collegiate, healthcare or corporate—directional signage is imperative, but it's not uncommon that campus signs are located in naturally dark areas. For this reason, solar illumination is an ideal solution to provide a steady source of illumination with low maintenance.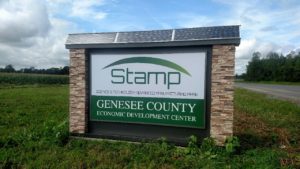 Ideally, entrance signage, like marquees and monuments, should remain lit 24 hours a day. To best meet design objectives and requirements, we can integrate solar power in an attractive way as part of the sign structure, or install optimally-placed stand-alone solar panel structures to provide illumination for the sign.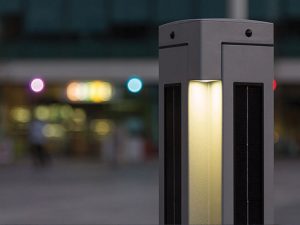 IDS is an authorized dealer of  Solarpost and Solareye.
Solarpost is an attractive solar-powered bollard that remains illuminated at a low level during dark hours and brightens to full illumination when approached by a car, pedestrian, or bicyclist. This feature makes them the ideal solution for guiding people through campuses, parks, and walking trails are even suitable as landscape features.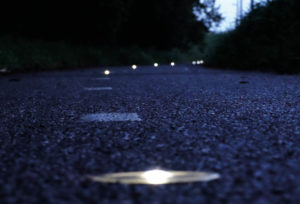 Solareye is a solar-powered flush delineator installed in the ground to provide low-profile safe lighting for walkways, staircases, trails, and any outdoor space.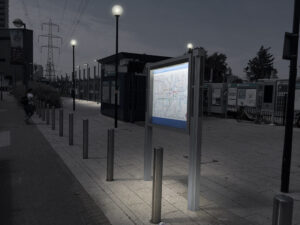 By using Solarpost we are able to strategically illuminate display cases that house information.
Solarpost is an ideal solution in both urban areas with high visibility and foot traffic as well as dark campus settings. The illumination aids visitors who are locating informational signage, such as trains and bus stations, and increases their security as they navigate the campus. Additionally, we utilize traditional solar panels to provide lighting for informational signage.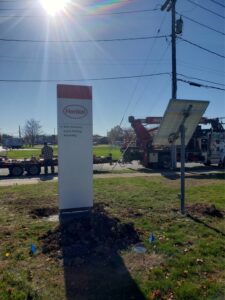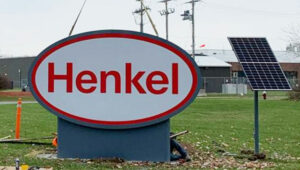 There is no application of solar-powered lighting that IDS hasn't utilized successfully, including commercial applications such as billboard lighting, sizeable commercial signage, architectural signs, and more. Our team of lighting experts focuses on providing value-engineered lighting solutions that maximize solar's value, helping our customers realize ROI on their commercial sign projects.
Implementing solar power into your new or existing sign system is an innovative, environmentally-focused way to improve and enhance outdoor navigation and added security.
 Contact ID Signsystems to explore solar lighting options for your project.
Let's Talk About Your Project