5 Tips for Smart Wayfinding Sign Programs
When designing a space that requires a wayfinding sign program (hint: that's all spaces) there are a number of factors to consider that will ensure the signs are effective at properly directing visitors. Here are five points to examine in your wayfinding signage project. 
#1 – Planning is Crucial for Wayfinding Sign Placement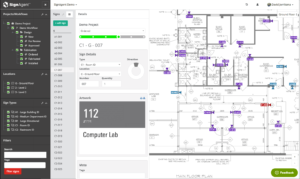 Whether you're designing for new or existing environments, careful and diligent planning is the most fundamental part of effective sign placement. Proper sign placement involves considering the flow and direction of traffic, determining the decision points from all directions, and then placing signs at those decision points. Understanding the decision points in your planning process is absolutely critical for a successful wayfinding system.
#2 – Keeping People in Mind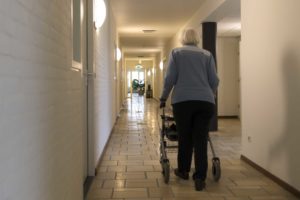 It's important to avoid assuming in sign placement planning. Involve a person or persons who are not familiar with the space to help in the planning of signs for your space.
By nature, our brains are trained to remember. If we have been in a space – even just one or two times –  we subconsciously remember it. If we're in a space many times then we run the risk of placing signs based on our memory rather than from the viewpoint of a person who is completely unfamiliar with the location. 
Before finalizing a wayfinding design, consult with staff in the facility. Staff are often asked for directions by visitors, so it's important that sign placement agrees with the staff's knowledge of the space and that the directions they provide are accurate. This is the ideal time to fix any sign issues that may currently exist, especially in office buildings.
Rushing through your wayfinding planning leads to guessing and poor placement, and people looking around for information signs to guide them — the exact opposite result you want your wayfinding program to have. 
#3 – Steer Away from Stock Signage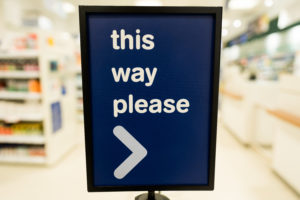 Choosing stock signage — signs that are available off-the-shelf from any sign retailer — may seem like an easy solution, but it is not the ideal answer for wayfinding signs. The mistake with choosing stock type of signs is that you get common, standard signs that you "fit" into your environment, rather than making the signs work optimally for your environment. Placing stock signage in your space jeopardizes the ability to provide precise directions, especially in complex or large facilities. 
With stock signs you also miss the opportunity to brand your signs with your logo and other elements. 
#4 – Avoid Clustering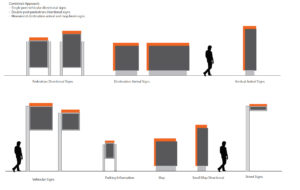 When designing your wayfinding sign system it's best to avoid overcrowding or placing too many different signs in the same vicinity. This can be tricky when looking at decision points and the ideal placement. Here is another reason why custom sign design is a good choice. Custom made signs can be designed as a "family" of consistent signs that work cohesively in a crowded space (see image of the signage family developed by EDR for Syracuse University). 
If needing to place a directional sign in a location that has existing signs, a good solution is to ensure your signs visually stand out and place them closest to the direction you're guiding people to look and move.
#5 – Poor Maintenance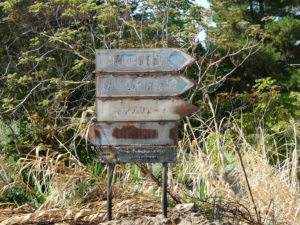 Perhaps one of the worst mistakes in wayfinding projects is neglecting signs after they're installed. This is especially true of exterior sign systems. Poorly maintained signs lead to signs breaking/chipping, failing from their secured spot, getting covered up by overgrown vegetation, and most commonly, fading. This is another reason why hiring a specialty sign firm to custom design your wayfinding signs is important – a sign maintenance program is often included to help alleviate these common issues and preserve your signs once they are installed.
Also, as environments change – such as locations added or relocated – it's important to revisit signs in place and update or modify them as required to continue to give proper directions. 
ID Signsystems employs a team of experts to manage your wayfinding sign program from the planning stage all the way through to installation and maintenance. We'd love to connect with you to help you discover the best solutions for your wayfinding needs!
Let's Talk About Your Project