Hospital Wayfinding & Signage Trends for 2020
Even before the pandemic, hospitals have been changing the way they engage with patients and their families. They have been placing a greater focus on hospitality and a desire for engaging patients through effective wayfinding systems and signs. Read on to explore 5 areas of hospitals and medical facilities that have seen the most change in 2020.
1. Hospital Wayfinding Branding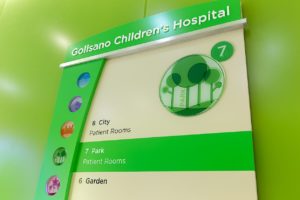 Hospitals are no longer solitary campuses, but exist as part of a regional network. Communicating the network brand has become an enormous task combining design, project management and communications. Hospitals also need to maintain their brand during system changes and expansion.
IDS has a long history of successful hospital rebranding projects. One of our most recent efforts is the ongoing projects at Roswell Medical Center. Designers like Arthouse Design in Denver specialize in these projects. IDS fabricated signs for the firm at Golisano Children's Hospital.
2. Communication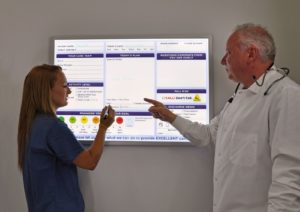 Patients and their families expect information to be transparent and clear. This is particularly important when they are in the hospital long-term or seeing multiple practitioners. Improved communication improves patient satisfaction scores.
IDS has an extensive line of patient communication boards designed around our experience working with doctors and nurses. Patient information boards are a simple but effective strategy for providing health data.
3. Urban Amenities
Hospitals today are expected to serve as dynamic community landmarks. More and more campuses are investing in urban amenities like parks, streetscape elements and lighting. Sign programs are extending into these areas, making hospitals central to the urban environment.
IDS has currently been working with Roswell Park Comprehensive Care Center on signs for their campus. Rowell is among the many large hospitals seeking to expand their footprint through parks, street furniture and public space.
4. Icons & Symbols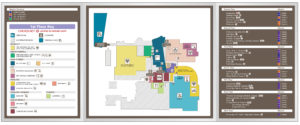 Hospitals and medical facilities are being expected to serve a wide-ranging multi-lingual community and institutions have found multiple languages to be a complex undertaking. Iconography has filled that role, making it central to successful wayfinding programs. Icons are flexible and can be employed for landmarks, maps and signs.
For Samaritan Hospital, IDS developed maps and signs around both universal and custom symbols and colors.
5. Durable Anti-Microbial Surfaces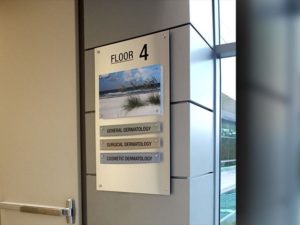 The COVID-19 pandemic has forced hospitals to conduct extensive reviews on surface materials. They pay special attention to tactile signs and graphics to be sure they have cleaning durability and germ resistance. This has resulted in signs and displays utilizing powder-coated metals and acrylic. This practice was established in Europe where healthcare facilities are required to have surfaces that are anti-microbial.
IDS has created wayfinding systems using aluminum, acrylic and powder-coated finishes. These materials were chosen in an effort to build signs durable enough for both tactile environments and frequent cleaning.
Let's Talk About Your Project