Next to airports, the most complex system to develop is the hospital wayfinding program. They contain multiple layers of interior and exterior signs in building environments that change rapidly with renovations and expansions. Hospitals are also more prone to clutter with equipment and information being added and changed.
IDS is uniquely suited to developing hospital wayfinding programs. We have developed a process that can move seamlessly from survey to design to implementation and ongoing management. Our planning and design process is built under the certainty that a hospital wayfinding program must survive a generation of changes while maintaining consistency and usability. IDS has worked with Kaleida Hospital, a long-term client, to develop an intricate wayfinding program using the techniques below.
1. Hospital Wayfinding Program Photographic Survey
Photographic surveys cannot be underestimated as a tool that will survive the design process. The visual survey is used both to analyze the wayfinding needs, but also to manage locations and installation throughout the design process.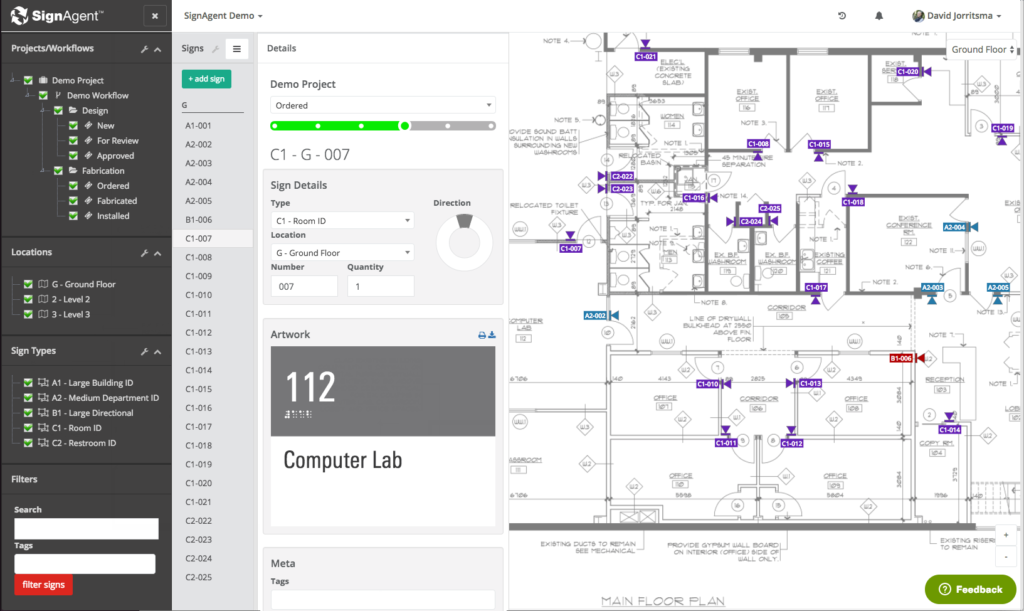 2. Conceptual Approach
During concept development we review with the client how color, type, message, shape and path define an effective program, often by a review of best practices. At Kaleida we outlined the iconography as the element that would drive the wayfinding program and color as a supporting element. The approach is enshrined in a palette created before designing the signs.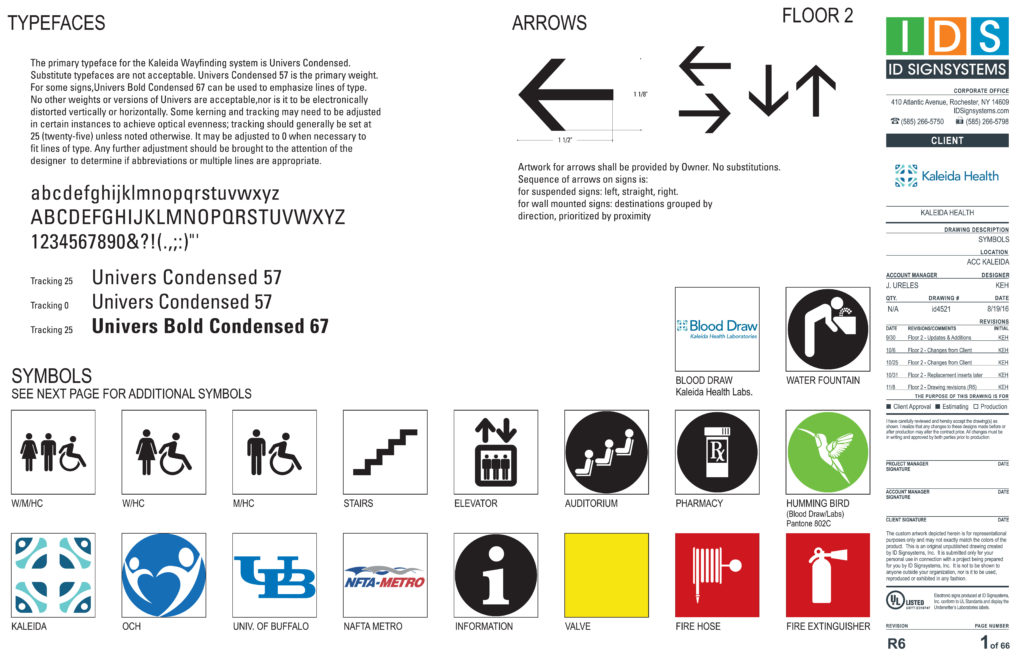 3. Hospital Wayfinding Program Sign Family
The sign family is one place where all the design elements can be seen at the same scale. At Kaleida we also developed the sign family to be seen at the height it will be viewed in the space, and how each element worked together.
4. Modular Development
All wayfinding, systems by their nature, are modular. IDS takes modularity to the next level by creating pieces and parts across a range of signs that make them easy to change individual elements. At Kaleida we created an identification sign and directory system with a consistent material palette to ensure efficiency across the wide range of signs being developed.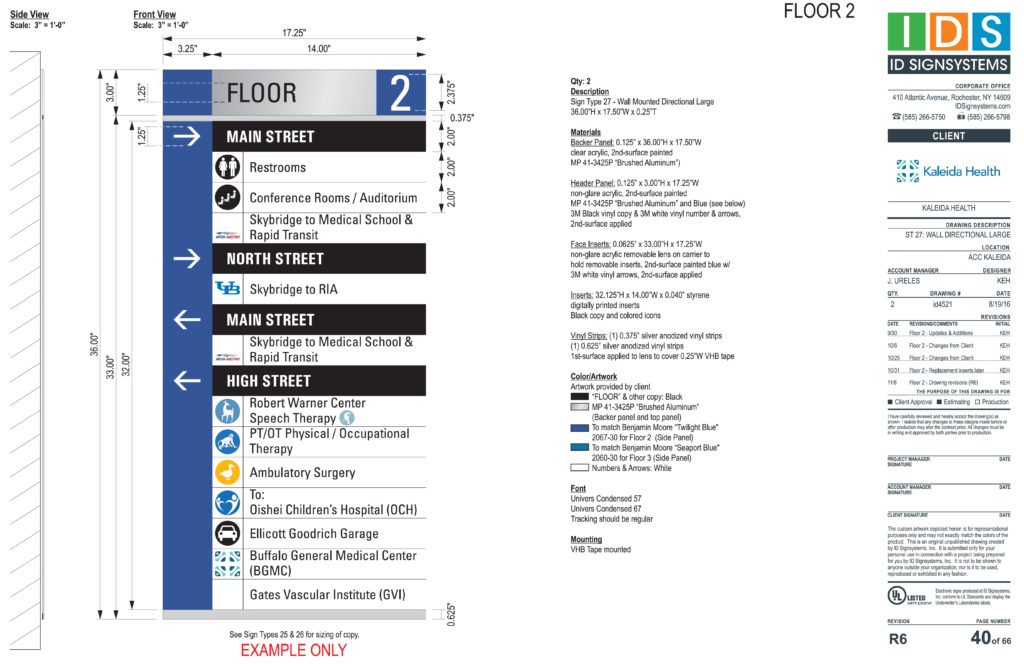 5. Message Schedule
IDS employed a cloud based database for managing floor plans and message schedules to ensure a transparent process between fabricator and client. At Kaleida this proved highly effective with the wide array of sign types being developed.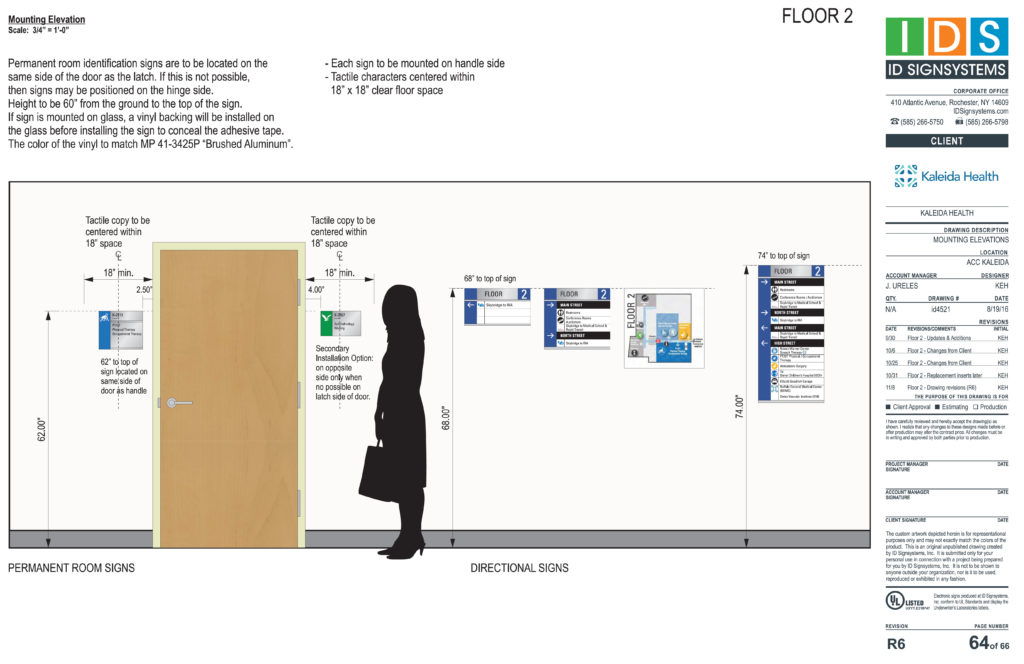 ID Signsystems builds custom wayfinding and identity sign solutions through client collaboration, with long-term focus on management and maintenance programs. Our custom approach results in a complete sign family that combines modular efficiency with unique attributes. Contact us today to get your wayfinding project started!
Let's Talk About Your Project