The critical importance of patient satisfaction for healthcare facilities has led to ID Signsystems creating a sister company, Patient Care Boards, which offer an array of patented communication boards. These are a highly customizable and cost-effective solution that provides a platform to reflect the philosophy, style and brand identity of healthcare facilities.
Our uniquely designed boards are an innovative visual tool that enables an institution to display patient and instructional information resulting in clearer communication and highly increased patient satisfaction. Details critical to every patient, improved efficiency and enhanced patient safety are achieved, ultimately resulting in greater satisfaction scores and better medical outcomes – a vital goal in the era of "pay-for-performance." As a part of our product line, ID Signsystems has also developed specialized unit boards which address the unique challenges related to delivering specialty care across various units.
The clear dry-erase acrylic surface and custom changeable graphic panel make this communication system simple and extremely effective. We can also provide the custom inserts in different languages to suit the diverse patient population you serve.
At the Cedars Sinai Medical Center in Los Angeles, the 24th largest medical center in the United States, our customized boards have been installed as part of a prototyping "test" process in a 48-bed specialized unit. With over 950 beds in the hospital, the goal was to make the patient board an integral part of the room design strategy and to serve as a key communication interface for patients, staff and families.
Every medical facility should consider the patient-centric Cedars Sinai Medical Center approach when developing a strategy to improve patient satisfaction. Start with a prototype unit with a patient board as a key element. It will quickly prove to be an essential part of the patient communication experience.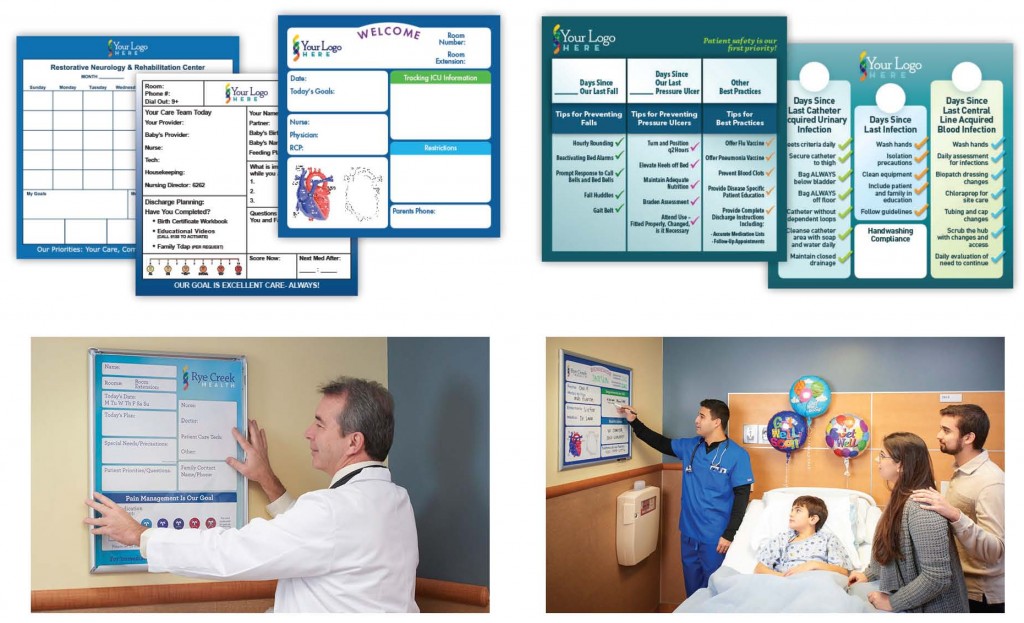 Let's Talk About Your Project