IDS and the Trail Revolution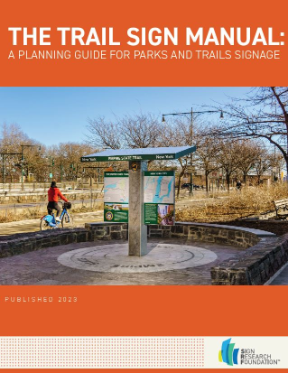 ID Signsystems' President, Paul Dudley, served on the advisory committee for a new book by lead researcher Craig Berger and published by the Sign Research Foundation. The book, titled The Trail Sign Manual: A Planning Guide for Park and Trail Signs, interprets wayfinding and fabrication strategies for parks and trails.
Berger is a Consultant with CBMC and Advisor for ID Signsystems and consults IDS on various projects, including those around park and trail sign development. 
The book was written and designed for stakeholders with a vested interest in park planning and emphasizes what has become a revolution in trail wayfinding. Parks, trails, and greenways are now critical infrastructure and essential for local and regional development. The National Park Service will receive more than $1.7 billion from the Infrastructure Investment and Jobs Act of 2021 funding package to renew our nation's parks' infrastructure systems. 
ID Signsystems has been at the center of the Parks and Trails revolution in Central and Western New York with a series of projects that serve as a model for projects nationwide. Three straightforward approaches in our work help explain how our projects are at the forefront of park and trail projects.
1. Landmark Placemaking
The Trail Sign Manual-A Planning Guide for Park and Trail Signs is centered around The Empire State Trail sign program. The project, designed by Alta Design, Starr Whitehouse, and C&G Partners, features a series of trailheads that combine a landmark interpretive kiosk, bike amenities, and beautifully landscaped public space. All sign elements reinforce the trail system's identity and aesthetic, as well as the local towns and urban districts. The sign markers and kiosk were fabricated and installed by IDS.
Like the 750-mile multi-use Empire State Trail that traverses New York State, successful multi-regional trail systems involve devoted resources for large landmark signs that serve as strategically-placed gateways across the trail.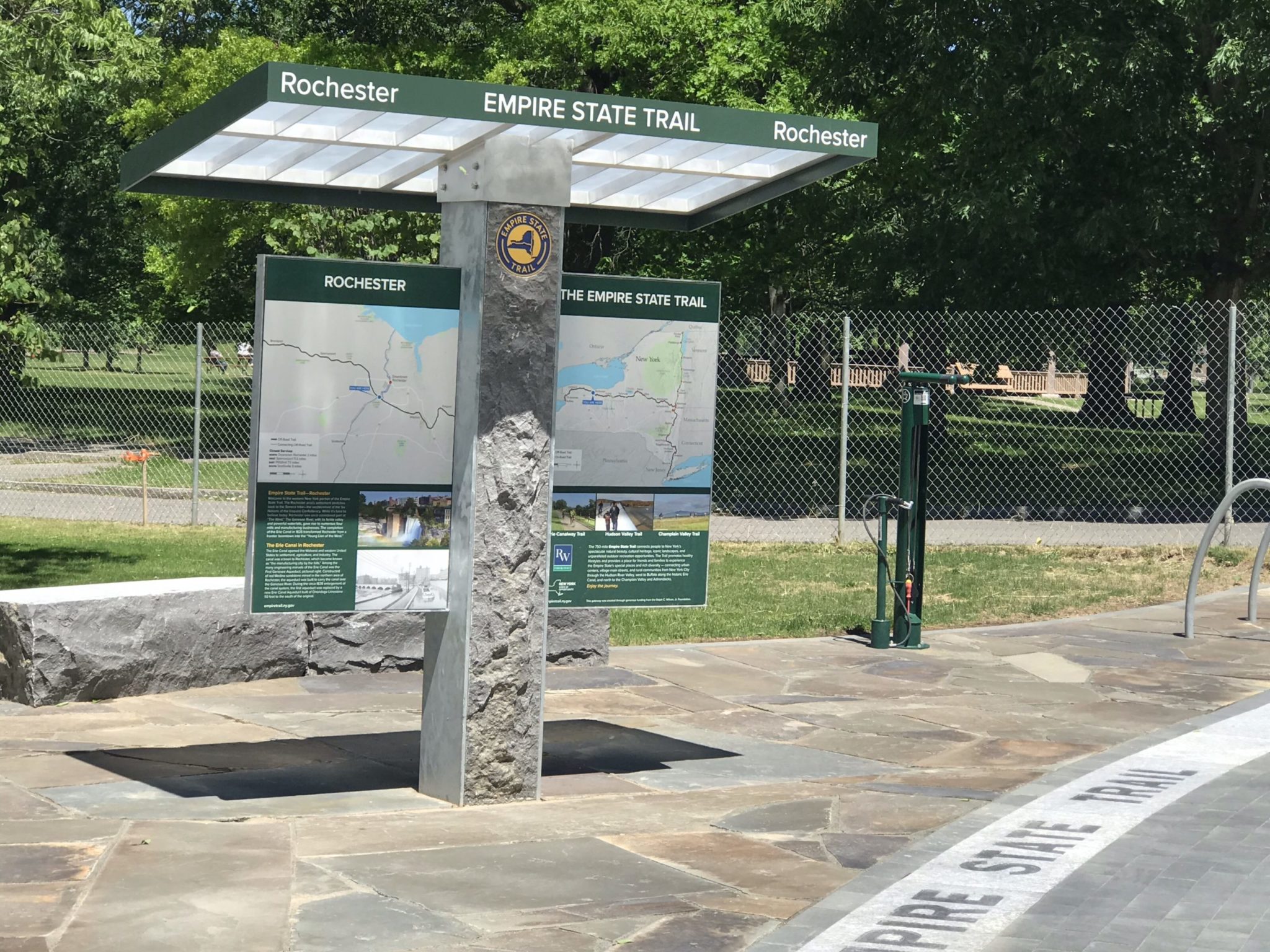 2. The Importance of Context
Most trails today are multi-functional, serving both recreational and transportation purposes. Understanding both the immediate and the larger trail area is vital for successful navigation and, thus, a successful wayfinding program.
For the Buffalo, NY Shoreline Trail, signs fabricated by ID Signsystems serve many functions, providing context to the area by defining distance, highlighting major trail destinations, and pinpointing all destinations along the trail.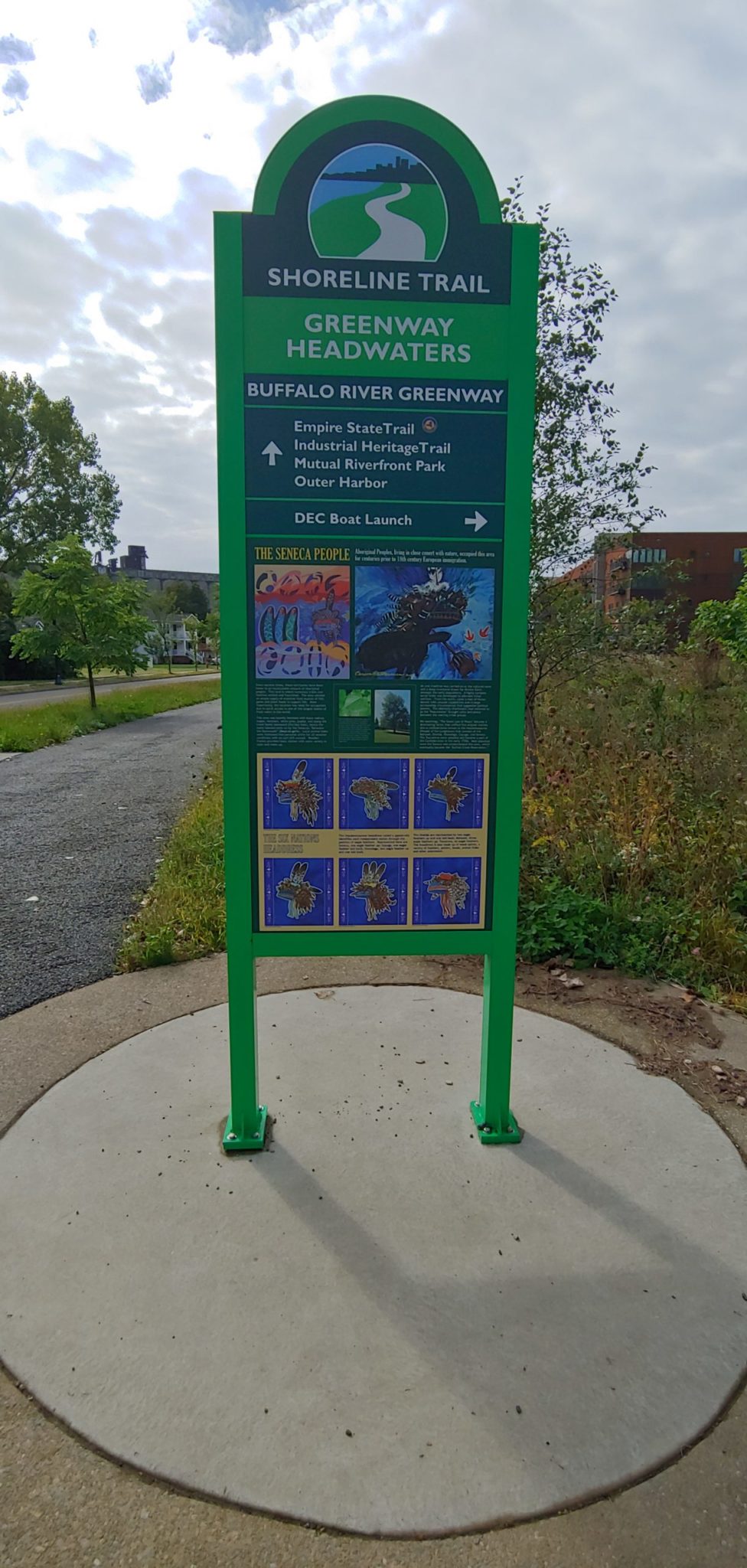 3. Maximizing Durability with Modern Details
When developing outdoor trail signage, durability has always been a predominant point of importance. Longer trails require an even higher measure of durability because of lower oversight in harder-to-reach and other remote areas.
IDS has explored specialty materials and methods for park and trail projects to address the durability factor. Some of our techniques have included powder-coated graphics, stainless steel connections, and laser-cut lettering. These methods have proven to increase sign longevity and support easier maintenance.
For The Brickyard Trail At The Sandra Frankel Nature Park in Rochester, NY,  IDS utilized these approaches to ensure the trailhead sign would require minimal long-term maintenance.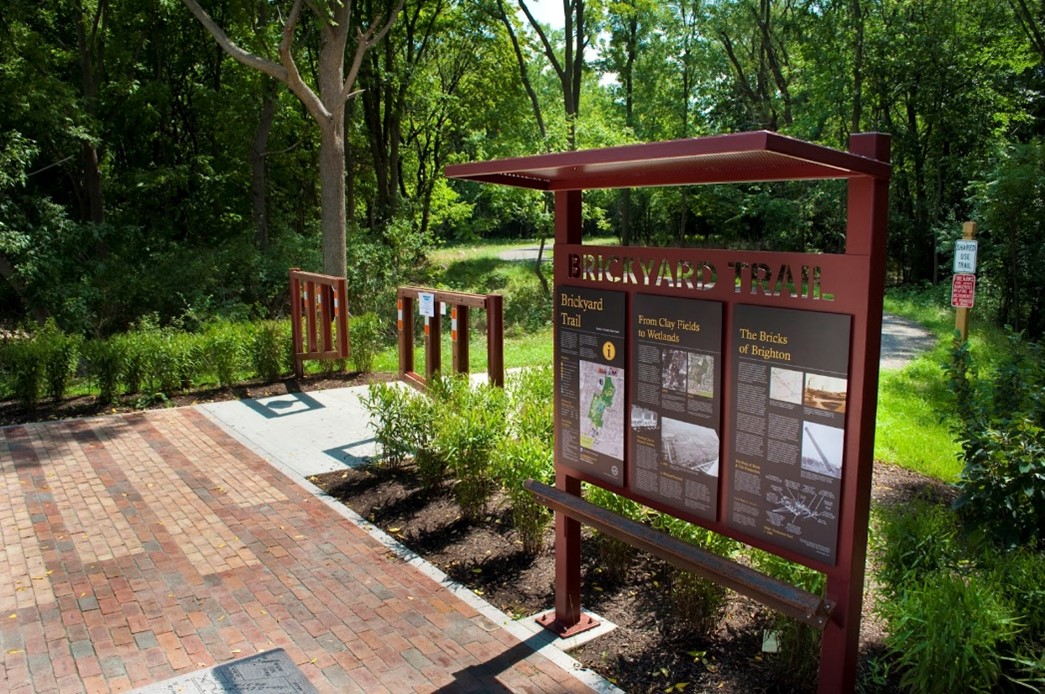 "I thoroughly enjoyed being part of this intriguing creative production with this book and talented team of trail sign specialists," said Paul Dudley, President of ID Signsystems. "The COVID epidemic has placed an emphasis on the use of trails and the outdoor experience, from a municipal and local authority as well as with personal considerations. This book will give designers who are working on trail wayfinding projects an introduction and comprehensive step-by-step guide to trail sign development including planning, approval processes, and permitting, along with great examples of the best trails in the country." 
Let's Talk About Your Project