ID Signsystems' sister company, Patient Care Boards, offers an array of patented Communication Boards – highly customizable, cost-effective display boards for Healthcare facilities of all types. Within this family of products we've carefully developed through evidence-based assessments, we offer an important sub-set of Specialized Unit Boards. These Boards are developed specifically for special Healthcare units such as Intensive Care, Neo-Natal, Coronary Care, Burn Unit, etc.
Specialized Unit Boards Enhance Best Care Practices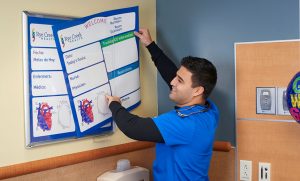 While similar in purpose to our acclaimed Patient Communication Boards, the Specialized Unit Boards are designed to address the unique challenges related to delivering specialty care. These Specialized Unit Boards employ the same low-tech, Dry-Erase technology as all of our Communication Boards, which means they are budget-friendly, reliable and easy to maintain. They provide a central location and organized means to communicate information about procedures and clarify the results of various efforts.
Specialized Unit Boards are uniquely designed with text and data fields that can be fully customized and can include unit-specific graphics as required. Special imagery and text fields can be included, such as an area for "Infant Feeding Plan" or a detailed diagram of the human heart for doctors to illustrate issues and procedures. From labor and delivery to children's vascular care to restorative neurology, a customized Specialized Unit Board helps reassure patients that they receive the very best care.
At right: A specialized communication board for a Children's Heart Unit, in both Spanish and English
Customizable Features Set Specialized Unit Boards Apart
Several key features of the Specialized Unit Boards set them apart and make them a valuable addition to your facility. A standard Patient Communication Board cannot address all of the unique needs and performance improvement measures that a Special Care Unit would require. If a unit's primary purpose or name changes or performance improvement targets evolve, it is a simple, fast and very cost-effective process to change out the inserts as required. This product evolves with you!
New Phases of Treatment Require Updated Data
Versatility has been designed into our Specialized Unit Boards, with the ability to quickly swap out the vinyl inserts as a patient advances through various treatment phases. On an as-needed basis, the data fields and/or images can easily be replaced with inserts most pertinent to the patient's current treatment plan. By having at-a-glance details critical to the given situation, improved efficiency and enhanced patient safety are achieved, ultimately resulting in greater patient satisfaction and better outcomes – a vital goal in the era of "pay-for-performance."
Reliable, Versatile, and Surprisingly Affordable
Patient Care Boards provides a template library of tested elements for all of our patented Communication Boards. We will work with your staff and administrators to determine your needs and preferences and produce a template that meets the unique requirements of any Specialized Units within your facility.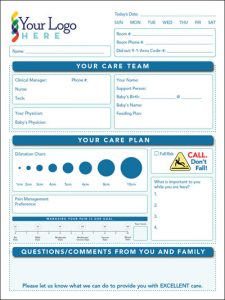 At right: A specialized communication board for a Labor & Delivery Unit
Let's Talk About Your Project