Lightboxes: A Versatile and Vibrant Way to Promote Your Ideas
When you need to bring more attention to your advertising or messaging, LED lightboxes are an ideal solution. 
Lightboxes have a multitude of applications, including interior and exterior graphic walls, tradeshow displays, retail displays, menu boards, exhibitions and donor recognition programs, and more.
What Are Lightboxes?
Lightboxes use LED or RGB lighting technologies to backlight the displayed imagery that is secured by a frame. There are several types of lightboxes, customizable for the type and nature of the display, making them a versatile signage option.  
Modular Textile LED Lightbox Systems
This simple and adaptable lightbox system uses dye-sublimated graphics printed on a fabric that stretches over a frame, leaving 100% of the textile material visible. A rubber lip on the edge of the printed fabric allows for a non-slip hold, fitting perfectly over the grooved frame. This makes replacing the fabric for visual and messaging updates fast and easy, without the use of tools. 
The flexibility of the textile application allows for marketing campaigns to be introduced and interchanged easily, with minimum overhead. 
In addition to a range of standard sizes, textile lightboxes can be  built in custom sizes and shapes and can be applied as free-standing, wall-mounted or even suspended.
Plexiglass Surfaces
Lightboxes using a plexiglass panel are available for more durable or permanent applications. When using plexiglass, graphics are printed in traditional poster formats laid into the frame with the plexiglass fitted over top. 
For our project for the National Veterans Research Center (NVRC) Donor Recognition Wall & Exhibit at Syracuse University, lightboxes were used to showcase timeline moments and notable veterans in the school's history.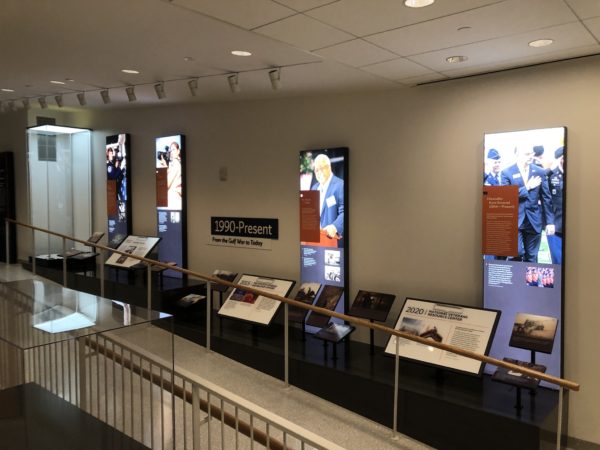 The historical timeline of Rochester Regional Health's Unity Hospital is another example of a lightbox display using printed graphics and plexiglass for an ongoing exhibit.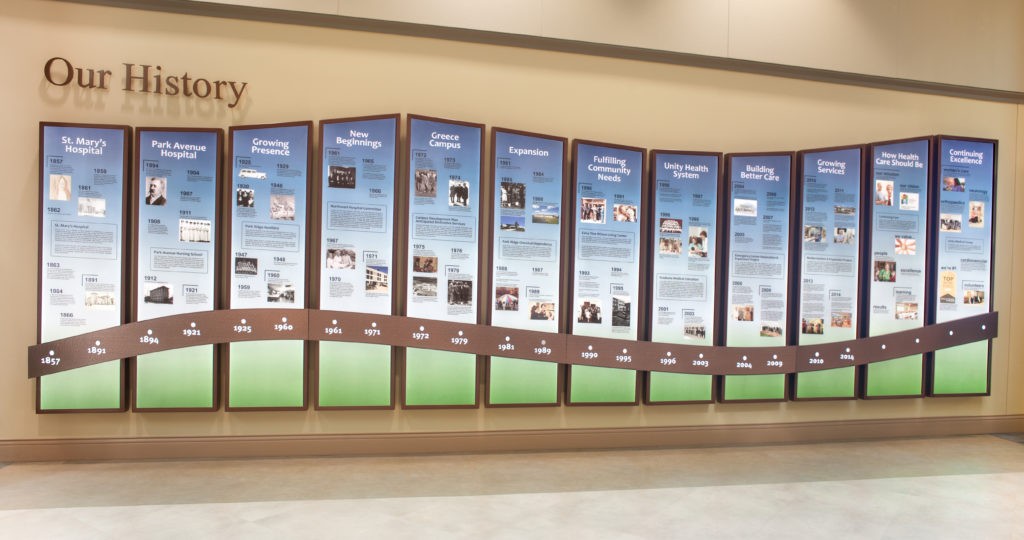 Lighting Options for Lightboxes
The most common method for illuminating lightbox displays is using LED illumination. 12v LED illumination delivers bright illumination at a low cost, providing 50,000 hours of LED life and minimal-to-no annual service costs.
Alternate lighting methods can also be used with lightbox systems. DMX-controlled RGB lighting can be easily changed or made into a dynamic color system for customized lighting displays.
Benefits of lightbox systems to meet your advertising and messaging goals
Creates a virtually frameless effect, keeping the focus on your visuals and message 

Available as freestanding, wall-mounted or suspended, and single or double-sided; "modular system" means units can be joined to make larger sizes

Adaptable for ceiling panels, column cladding or suspended effect

Standard or custom sizes are available

Fabric faces can be easily changed in minutes thanks to the edge-mounting system

Durable powder-coated frames resist damage

Dye-sublimated graphics give rich, attractive image quality with incredible detail
Get complete information about our lightbox offering.
Let's Talk About Your Project