Placemaking and the Healthcare Experience
In healthcare settings, the wayfinding experience commonly focuses on signs. But, there is an equally important area that deserves attention: placemaking.
Placemaking is the design of the environment that reinforces assurance, positive emotional well-being, and relaxation. 
In buildings, placemaking includes both natural and thoughtfully planned illumination schemes. It also includes things like natural materials, artwork and open, clutter-free spaces. When developing strategic placemaking environments, there are three areas of focus:
The Entrance as Orientation and Interpretive Space
Entrances at hospitals are known to cause visitors anxiety. They are the gateway into the larger hospital environment; the place where a visitor's emotions in and about the facility are established.
There are a number of elements that can improve the experience one has at the hospital entrance, but the most important is the visitor registration and support area. Together with human support to provide information and direction, delivering a multi-layered approach at entrances that includes donor recognition displays and hospital timeline features delivers a complete and informed experience for visitors to interpret.
The Importance of the Waiting Room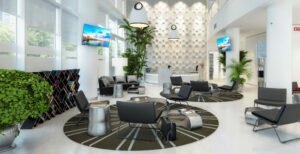 Hospitals have two primary constituents: patients and their families. Family members must often spend hours waiting, while their loved ones undergo tests and procedures. The waiting room is paramount to the emotional well-being of its users. A number of the same issues found in the main lobby also apply to smaller department waiting rooms—the leading one being clutter. Waiting rooms are often managed by busy department staff with little time to oversee the nature of the waiting room's environment. Clutter, like pamphlets and disorganized magazines, can quickly accumulate on tables. Adopting a clutter-control program through the use of consolidated displays, digital screens and proactive management is essential to keeping lobbies and waiting rooms comfortable for visitors.
Related story: Not All Hospital Decision Points Are Created Equal (But They Should Be)
Patient Information and the Room Space
Patient rooms are not typically considered areas for placemaking, but they are. The placemaking opportunities in patient-specific areas should not be underestimated.  Visitors to these spaces need quick reassurance that the patient is being taken care of and that treatment plans are in place. Patient communication boards play a significant role in keeping family members informed and at ease. Additionally, the clear orientation of the room and appropriate lighting are also placemaking considerations for successful patient visits.
At IDS, our wayfinding strategies include placemaking accommodations for healthcare facilities of all sizes, including our complete line of patient communication boards. Complete our form below to start investigating how placemaking enhancements at your facility can deliver an optimal and pleasant experience for your guests.
Let's Talk About Your Project