How Sign Systems Improve Interior Signage
In any facility, especially healthcare, higher education, airport or corporate campus settings, a unified interior wayfinding signage program is crucial to quickly guiding users and visitors through the space.
Signs are expected and really not given much thought by users, but a sign system is a crucial element of creating effective spaces.
Common types of sign systems include directory signs, navigation or wayfinding signage and room signs. The following elements help shape an effective sign system.
Consistency in Branding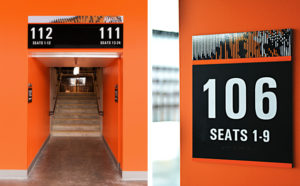 One of the benefits of a sign package is continuity in its design. All signs that are designed as part of the system are created based on designated templates and have the same brand elements. Brand elements can include color scheme, distinctive graphic design elements, logo, text alignment and placement, and are made of the same types of materials. These visual elements are familiar and create consistency across the family of signs.
To ensure that branding is consistent in your interior signage designs, incorporate your guidelines from the onset of the project.
Kudos to experiential design firm, Entro, for the original design work on our RIT branded interior signage.
Compliance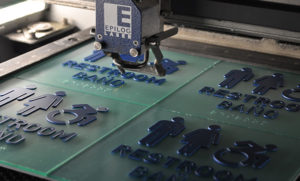 Federal, state and local law mandates that all public buildings and spaces maintain proper, up-to-date ADA signage in their facilities per the Americans with Disabilities Act of 1990. This means it is crucial that special attention is paid to meet these requirements. OSHA also has guidelines for sign placement where certain hazards may be present. The cost of non-compliance is significant with the penalty for a first violation starting at $75,000.
A sign system and associated documentation helps to ensure sign compliance in sign styling, readability, and placement. The IDS design team has over 15 years' experience creating sign systems that meet regulatory and code standards and can conduct an ADA compliance sign survey of your facility if required.
Room to Grow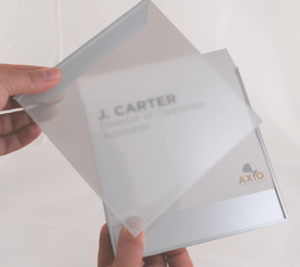 One of the most important aspects of implementing a cohesive sign system is that of scale. As your business grows and changes, such as new facilities being added or layout of existing environments change, new signage placement and wayfinding systems are a natural part of this expansion. In fact, signage should be part of the planning process as the property grows and changes.
An inconsistent or poorly managed sign system can cause considerable anxiety in visitors as well as costing valuable staff time as lost visitors are directed to their destination.
With a  well-managed and correctly documented sign system in place it is easier to implement consistent signage.
Standards & Documentation
A sign system is essentially a blueprint for ensuring consistent signs across the environment and ease of production.
Documentation is the fundamental part of the system that ensures consistency. It is instrumental to development of an effective sign system.
A documentation portfolio for a sign system includes conceptual drawings, fabrication specifications and complete specifications for all signs. Such specifications include shape, size, material, style, and placement within the environment.
Documentation provides guidelines for creating additional signs not part of the initial project build. These standards ensure continuity and cost control that stays within operational budgets.
ID Signsystems operates the latest GPS-driven sign planning and surveying technology that ensures consistent accuracy of your sign system.
Faster Time to Market
Sign systems allow for faster time to market since the design and planning have already taken place. This substantially reduces turnaround time when a new sign is needed — saving both time and money.
With planners and project managers capable of developing large-scale project rollouts, the IDS design team works with our customers to look at the larger picture on every size project. We determine if a high level of customization is needed or if a more modular approach that can be rolled out on a large scale is appropriate.
See our full sign services at https://idsignsystems.com/sign-production-services/
Let's Talk About Your Project