Hospital Wayfinding Sign System: Save Time & Money
There's no question a quality healthcare wayfinding sign system is a necessity. Navigating a complex hospital campus or medical facility should be seamless and intuitive; designed with age, ethnicity and anxiety levels of the users in mind.
However, feedback from patient and visitor surveys puts confusion in wayfinding as a significant anxiety trigger when visiting a hospital with poorly managed sign systems. This leads to delayed appointment arrivals, extra cost in staff time as they are required to act as guides, as well as negative feedback in patient and visitor experience surveys that could ultimately impact hospital funding.
An effective wayfinding system should be centered around an intuitive information exchange, thus calming visitors, simplifying navigation and improving feedback from patient and visitor surveys.
Your Wayfinding Options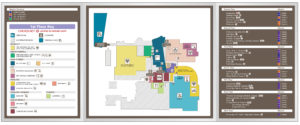 Planning a successful sign system for your space requires a complex set of navigational tools and should only be facilitated by professionals in the wayfinding field. Many healthcare facilities choose to utilize interior designers, who then hire separate companies to manufacture the signs. This approach takes extra time and money.
Another popular option for hospital wayfinding sign system development is to work directly with design/build signage experts, such as ID Signsystems. The benefit of this approach is a close team bond with the client hospital design and facilities team, ensuring the management and implementation of projects lead to considerable positive returns on investment. This results in cost savings, as well as much tighter management of change within the overall sign system.
Save Time with the Right Partner
Your healthcare wayfinding program is an opportunity to collaborate with an expert in the signage industry. Choosing the right partner can sometimes be a challenge. Once you've decided to save time and money by going directly with a signage company, choosing ID Signsystems is the easy decision.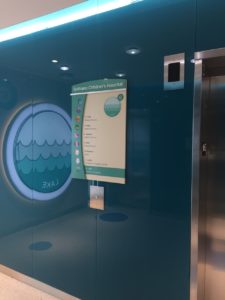 The team at ID Signsystems bases our solutions on the long-term identity and information needs of the institution. Most of our clients have worked with IDS through multiple projects over many years.
These relationships have allowed us to develop numerous best practices. This has allowed us to create a holistic process including: planning, design support, value-engineering, prototype development and guidelines for ongoing management. All our wayfinding programs are managed across cloud-based database systems that give both designers and clients complete access and visibility of the global system.
Our approach combines both custom and modular systems. This results in unique sign systems, landmarks, donor recognition and placemaking elements made to stand the test of time.
For more information about collaborating with IDS, fill out the form below and we'll be in touch!
Let's Talk About Your Project