Managing Your State-Mandated Healthcare Information Displays

Facility Rules and Procedures. Government mandates. Multiple languages.
Healthcare facilities can struggle under the weight of displaying necessary and required information. With so much information vying for visibility, the result can be an inundated visual environment. Such degradation brings the opposite result: an information overload.
But there's no getting around the fact that hospitals are required to post patient information in public spaces and patient rooms.
So what can a facility do to create a visual environment that meets regulatory requirements while maintaining legibility and a healthcare information display that actually gets noticed?
The following sign formats and recommendations can help any size facility reduce clutter, improve the visual display, and improve the effectiveness of the messaging.

Digital Format
One way to effectively display an abundance of information is by using digital signage. A digital display in the form of a monitor with messaging that rotates or cycles through a series of displays is convenient as well as organized.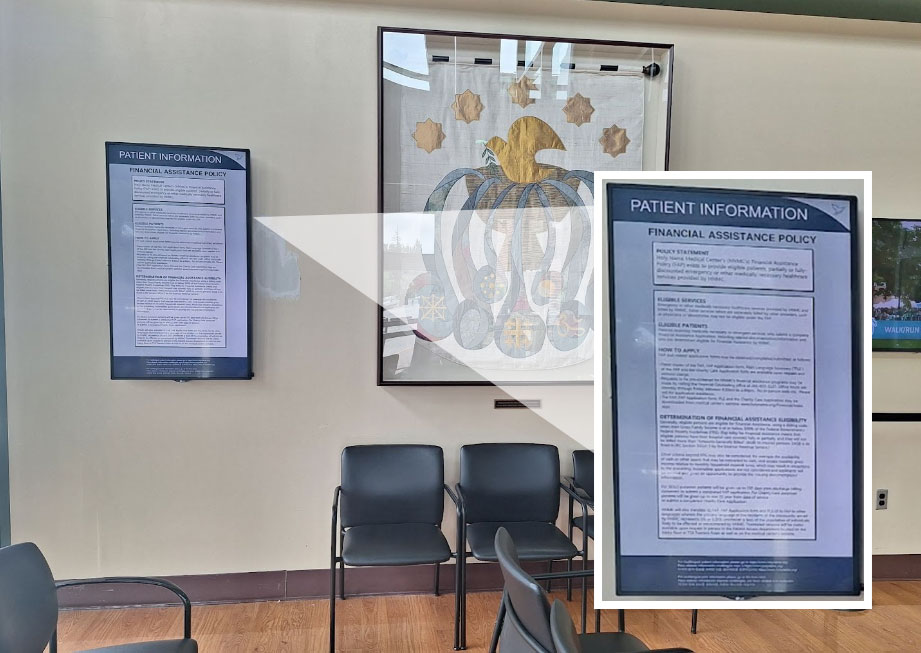 Craig Berger Management Consulting, a consulting firm for ID Signsystems, worked with the staff of Holy Name Hospital in New Jersey to consolidate patient information on a digital screen.

Print Format
Patient information should be available in printed format, too. Information that must be made visible to patients and visitors can be turned into signage and posted in common areas. The facility's website should also house current patient regulatory information.
These static wall-mount displays from IDS offer a seamless and attractive way to display regulatory information in your healthcare office. The displays are available in four, six, and eight sheet frames.

Patient Care Boards and Durability
Patient boards on the walls of patient rooms and information display cases take a considerable amount of wear and tear. Patient boards, in particular, are drawn on and erased hundreds of times. Investing in quality products made of durable materials helps to ensure greater longevity, which is especially important for facilities with hundreds of rooms to supply.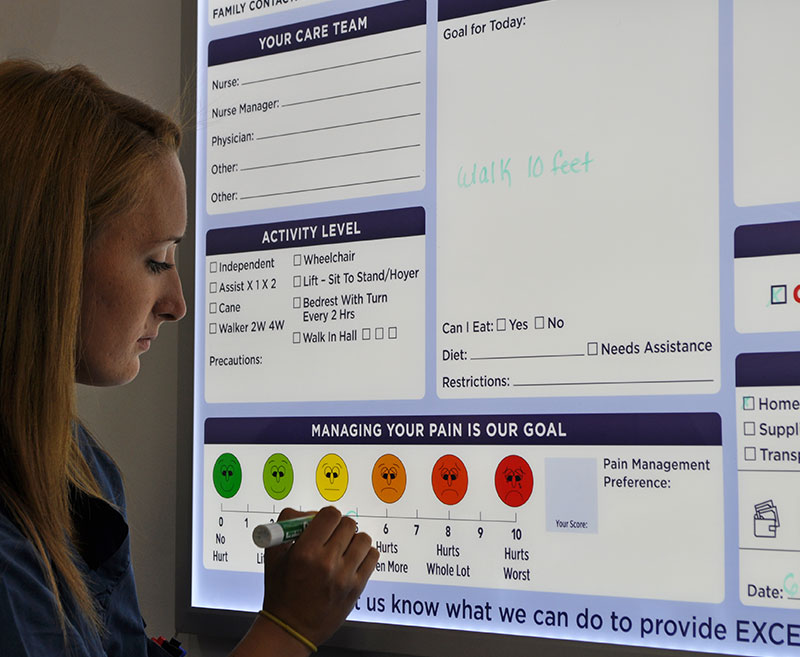 Consistency in Branding and Organization
When a great deal of information must be provided, especially in a visual display, it's important to maintain consistency in branding and formatting. Using a template with a uniform header style, logos and icons, and type formatting is extremely important when there are numerous signs to be created. Location is also an opportunity for consistency by repeating signs in similar places throughout a facility.
Healthcare Information Consolidation
In most cases, it can be nearly impossible to display all regulatory information. Using a QR code that links to a more extensive application with all regulatory notices is a way to consolidate information and display only what absolutely must be posted. QR codes can be used on digital or printed signage.
Review Your Space
As simple as posting signage in an office may seem, there's an art and skill to doing it effectively.
ID Signsystems has created patient information systems for some of the largest healthcare programs in the country and has developed a series of products to support highly organized and clutter-free spaces.
The team at IDS can conduct an information and signage audit for your facility. We'll identify shortfalls in your healthcare information displays and discuss ways to create a legible, durable, and aesthetically pleasing visual environment for your patrons and staff.
Let's Talk About Your Project