What Does it Mean to be a Full-Service Sign Company?
How ID Signsystems helps businesses achieve accurate and compliant wayfinding with  specialized software.
Sign production and fabrication may be at the core of what we do at ID Signsystems, but it is not all we do. IDS is a full-service sign company serving businesses across a number of key industries locally and nationally. 
So what does it mean to be a full-service sign company?
By our definition, our full-service capabilities mean we deliver end-to-end solutions for signage. Our planners, designers and fabricators work hand-in-hand under the same roof to create projects in a highly collaborative and efficient environment. And we do so with our clients' needs first of mind and at our side during the entire process.
There are many nuances to our full-service offering.
One essential capability we provide under the full-service umbrella is complete wayfinding planning. Whether in a large scale setting, such as campus, business park, or shopping center, or a small one as simple as a second story business office, precise wayfinding delivered as economically as possible is important – and it starts with strategic planning. Our approach looks at the total picture; we determine to what level customization is needed and where modular, cost-saving, signage may solve certain needs. 
Comprehensive Site Survey & Sign Audits
Utilizing the wayfinding software Wayfindit, we are able to conduct and record accurate site surveys, deliver sign location plans and create a detailed schedule, complete with specifications and mock-ups of the full sign package. Our clients are provided access to their project on Wayfindit, keeping them involved at every step of the process. 
Once sign installation is complete the project stays active on Wayfindit, giving both the IDS team and the client full access and ability to manage future updates and changes with complete ease.
Our wayfinding planning also includes defining a naming and numeric convention for the sign project that fits the structure and layout of the building or campus. All of which is fully and completely documented and delivered to the client.
For technology company L3Harris Technologies, IDS used Wayfindit to conduct a highly comprehensive survey of one of the company's interior spaces. The software helped to identify areas where their existing wayfinding signage was lacking and helped solve many of the complexities that interior wayfinding brings.
ADA Compliance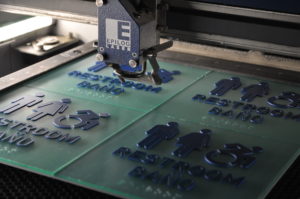 ADA signage compliance is another part of our full-service offering. Using Wayfindit we complete a site audit to identify all code issues. Our team is well-versed in ADA compliance matters and we ensure your signage is designed and installed to meet regulations and fully serve those maneuvering through your facility. In large facility sign systems, we use our value-engineering approach for ADA signage, to produce modular signage at the lowest total cost for you.
Paul Dudley, IDS President shared, "Our Wayfindit sign auditing service provides clients the perfect platform to capture their existing multi-location sign inventory and ensure ADA sign compliance. The software's database capabilities allow us to manage and roll out sophisticated branding and sign program roll outs." 
These are just a few of the value-added services we provide as a full-service sign company. See our complete full-service approach. 
When you need a partner to deliver a turnkey signage solution for your business, municipality, hospital, campus or other, turn to ID Signsystems. Our full-service capabilities are designed to meet your needs. 
Let's Talk About Your Project