Benefits of Illuminated Signage & Lighting
Signs are vital for identifying places, providing direction, and delivering key information to consumers. There are many types and methods of producing and displaying stand-out signage and one of the most innovative and contemporary approaches is illumination.
Illuminated signs are effective for any industry and are required for places such as storefronts, shopping centers, and restaurants; large venues and buildings such as hospitals, universities, corporate campuses, sports complexes, monuments, and more.
Here are 4 reasons why illuminating your signage can provide value to your business.
Increased Visibility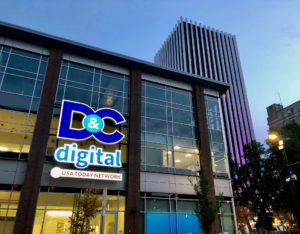 Even with an address in hand, signage is the fundamental way consumers locate and recognize a business. Signage is also the first thing we notice about a storefront, restaurant, or just about any facility, whether doing business there or not. A lighted sign provides immediate visibility, crucial in busy locations, at night, and during inclement weather.
Illumination provides quick delivery of the sign's message day or night, whether it be informational, directional, or for advertising.
Versatility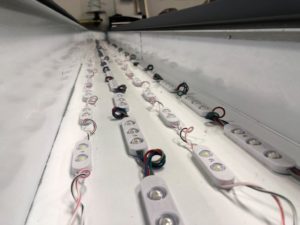 Illuminated signs are applicable in both interior and exterior settings.
While they are essential in outdoor applications for visibility at night and during inclement weather, they are also advantageous indoors to provide focused branding, highlighting spaces, for identifying crucial safety and emergency information, wayfinding in crowded spaces, display, advertising, and more.
Improved Appearance = Improved Credibility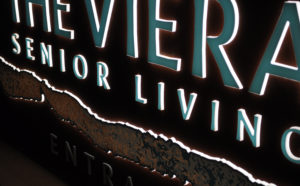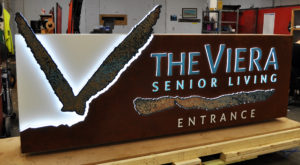 Businesses must distinguish themselves from their competition and an illuminated sign is an instrumental way to differentiate one brand from another.
Lighted signs convey professionalism and sophistication and give consumers confidence that the business cares about its appearance and position in the market. Additionally, a brightly lit sign is a form of passive advertisement and gives business owners the opportunity to fully amplify and maximize brand promotion.
Energy Efficient for Cost Savings
When it comes to signing illumination, using LED lighting is the most resourceful way to go. LED bulbs require much less wattage and have a significantly longer lifespan than fluorescent, and traditional incandescent bulbs. Modules using less wattage equated to reduced electricity costs, and because LED bulbs put off less heat, the lighted sign won't add costs to indoor cooling needs.
ID Signsystems specializes in designing and fabricating unique illuminated signs in a variety of formats, including lightboxes, channel letters, halo lighting, and more. Here are a few cutting-edge ways we have used lighting design experience and technologies to illuminate signage for our customers:
Solar power products, including signs, displays, bollards, and landmarks
Illuminated interior area lighting, including ceilings, walls, and even floors
Multi-color controllable RGB lighting for landmarks, public art installations, and signs
Illuminated boxes and enclosures that can be applied for landmarks, retail display, identity, interpretive and fixture projects. We also can apply graphics.
Illuminated signs are superior when your sign must be visible, readable, and unique. Contact our project team to discuss how illumination can be optimized for your business signage.
Let's Talk About Your Project