Non-essential businesses will soon be opening their doors and many are focusing their efforts on how they can safely bring their employees back. IDS has been working with several companies to develop a COVID-19 reopening strategy based on leading practices being employed around the world.
3 Best Practices for a COVID-19 Reopening Strategy
Strategy #1: Identity & Information
A leading COVID-19 reopening strategy are safety posters and signs that clearly articulate procedures, space occupancy numbers and social distancing standards. This information needs to be designed creatively to integrated into the corporate branding and architecture to be successful. The use of quality illustrations and iconography is important to make workers feel that the signs were developed with planning and forethought.
Strategy #2: Wayfinding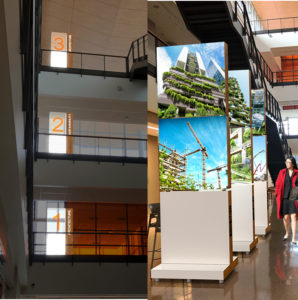 Much higher standards for tactile signs need to be employed including much greater durability and the need to withstand extensive cleaning. In addition, more rigorous movable and modular wayfinding signs need to be put in place for the new information and routes. IDS has looked at our experience in modular exhibit and display systems as parallel for this new direction.
Strategy #3: Partitions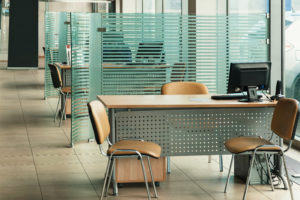 Partitions are coming back to the office as part of the COVID-19 reopening strategy, but most companies do not want to move back to the walled off look of the cubicle past. Employing creative ideas from open floor residences like bookshelves, screens, and translucent walls can create a better balance between protection and openness. In addition, adding identity, wayfinding and brand elements to temporary partitions can declutter the office and make it appear as one seamless approach.
Using these strategies, IDS has helped business navigate their reopening strategies and provide our clients the tools to return to office safely. If you're in need of a partner to guide you through this challenging task, please contact us to learn more about our process.
(Identity & Information image used with permission from Gensler.com)
Let's Talk About Your Project