The Strong Museum of Play Expansion Iconic Signage Solutions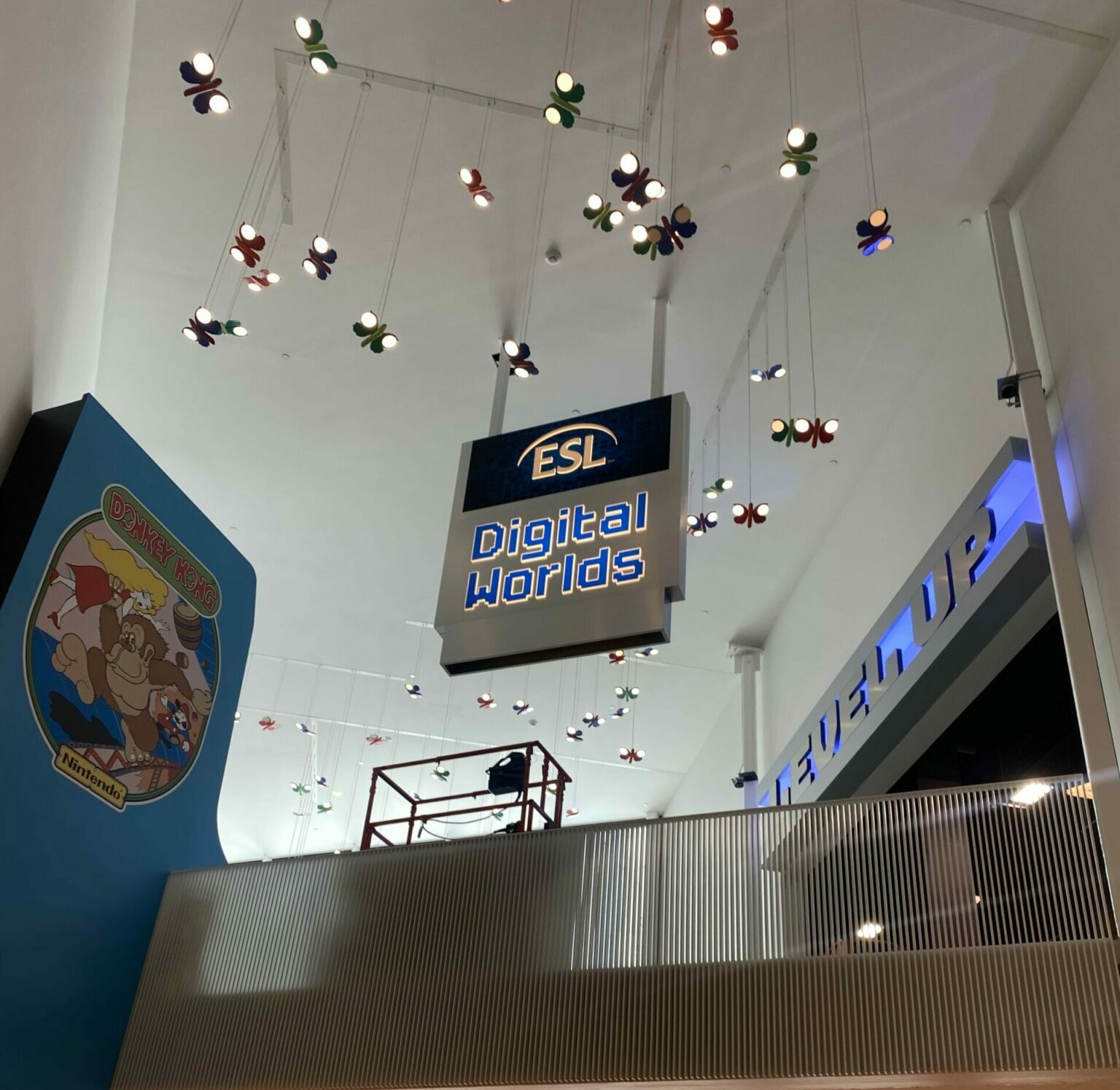 ID Signsystems Develops Iconic Statement Signs for The Strong National Museum of Play
Client: The Strong National Museum of Play
Location: Rochester, NY
Market: Corporate / Themed Environments
Solution: Specialty Identity Signage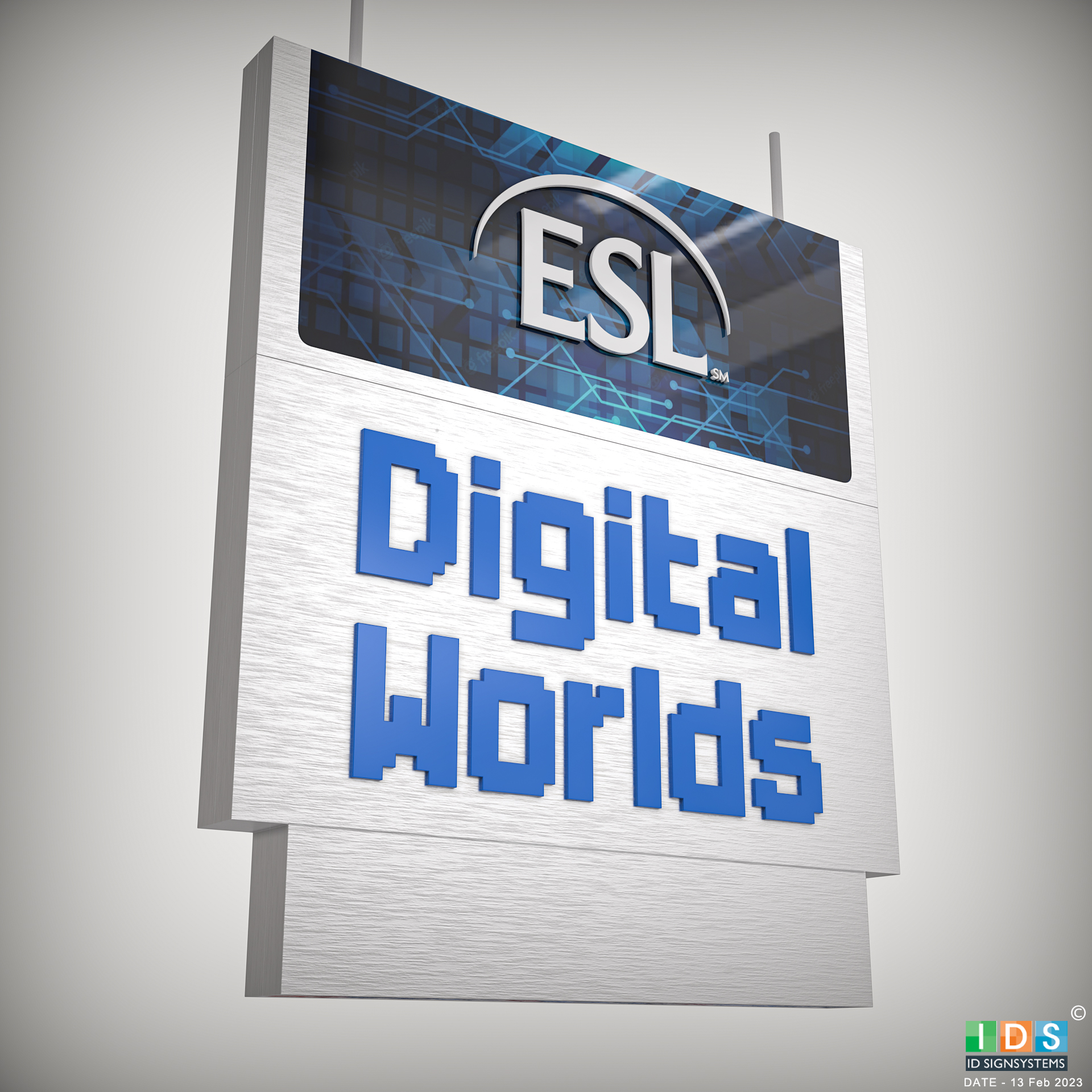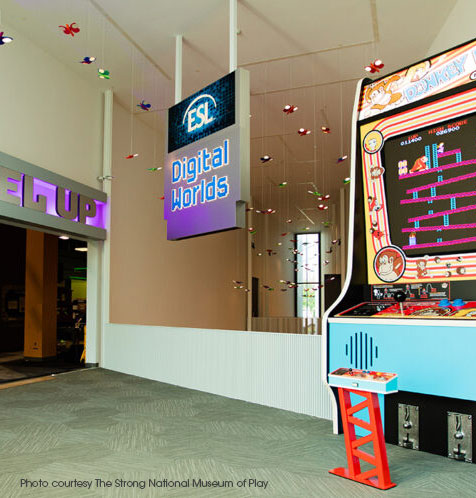 From design to installation, a 12-foot larger-than-life LED game cartridge was the highlight of the project. The construction of a special trolly allowed the team to maneuver the 600-pound sign through narrow corridors inside the Museum to the installation point. 
Translated clients' conceptual sketches into elegantly executable three-dimensional solutions
Process presentation from design concept to installation
Photo-realistic 3D photo rendering

Developed value-engineered manufacturing solution with supporting samples
Custom fabrication of all 3D illuminated and non-illuminated elements

Vinyl supergraphics

Installation managed by IDS
For its $75 million expansion project, The Strong Museum of Play in Rochester, NY, appointed ID Signsystems to create a series of museum statement signs to support several new interior and exterior exhibit areas throughout the Museum.
IDS was selected through a competitive bidding process and our expression of how we would translate the Museum's vision into tangible exhibit pieces. We meticulously translated design concepts into large 3D renderings, offering a clear visual representation of the proposed sign elements.
Using our value-engineering process, each piece was manufactured to strike a balance between meeting the client's budget and maintaining high-quality craftsmanship and state-of-the-art techniques.
The Museum expansion includes a new 24,000 sq. ft. ESL Digital Worlds exhibit for which IDS created a 12-foot larger-than-life game cartridge sign as a focal point at the exhibit entry. The sign was fabricated using a push-thru illumination technique for the three-dimensional lettering and contains adjustable LED illumination, giving the client direct control of the sign's illumination.
Additional sign elements for the project include:
A 20-foot overhead illuminated entry sign for the Wolk Admissions atrium, setting a captivating ambiance and welcoming visitors.
An oversized vinyl window-mounted logo to reinforce the museum's brand identity.
Five landscape-mounted visitor informational signs fabricated using resin-embedded graphics for ultimate exterior durability. Each colorful sign describes how generations have utilized 'play' for generations in the area.
Two bright-red metal fabricated exterior signs for the Riedman Commons and Riedman Plaza, adding interest to the landscape and recognizing a key Museum donor.
Additional metal fabricated sign highlighting The Suzanne & Tony Goodman Gallery.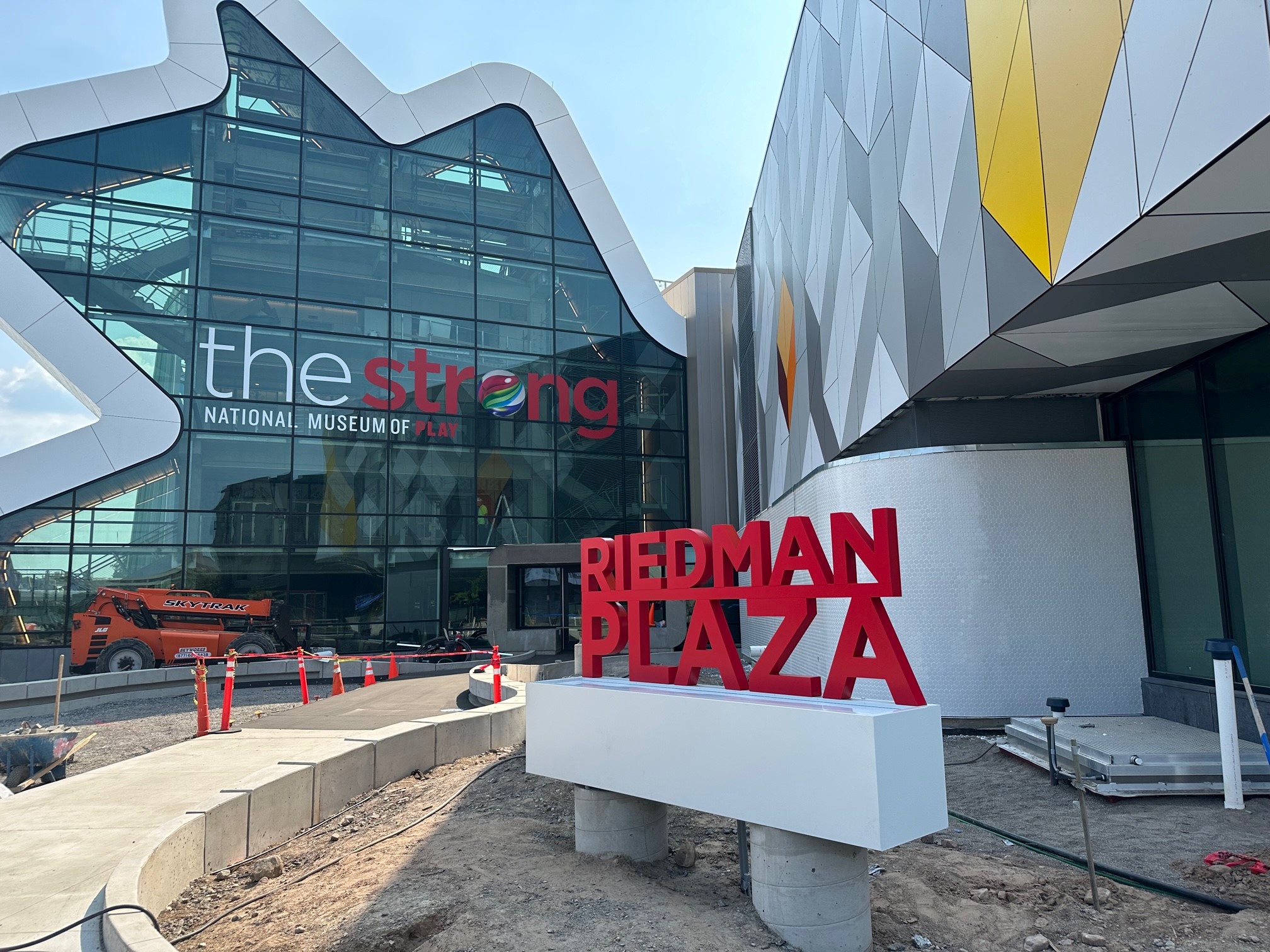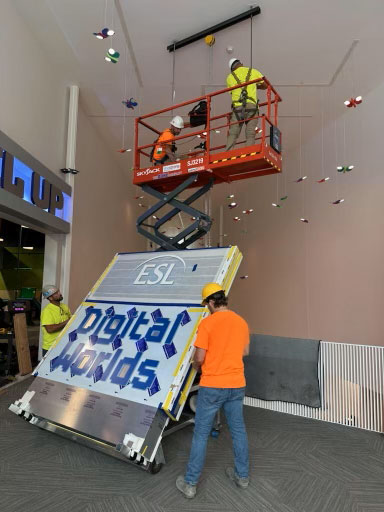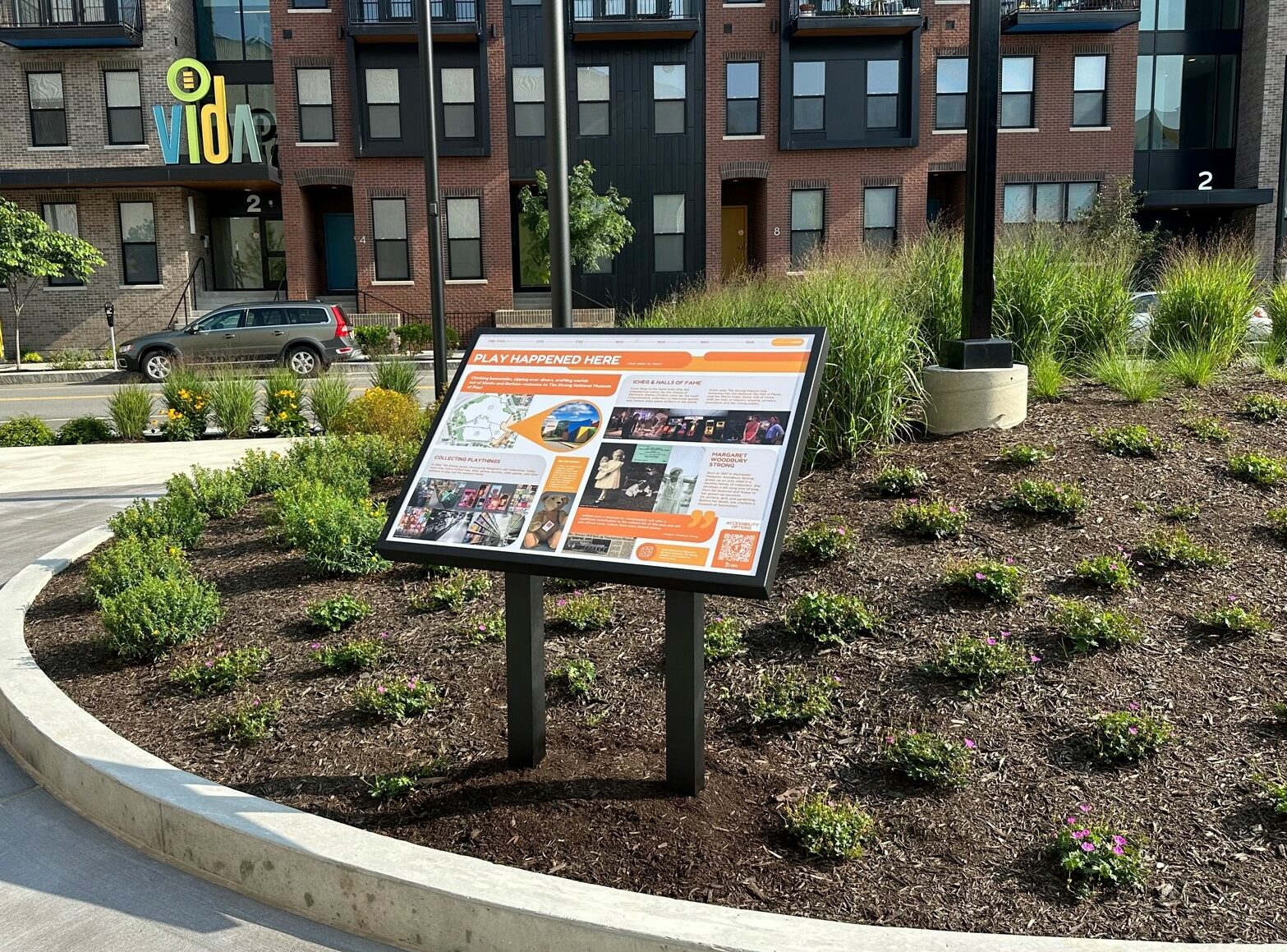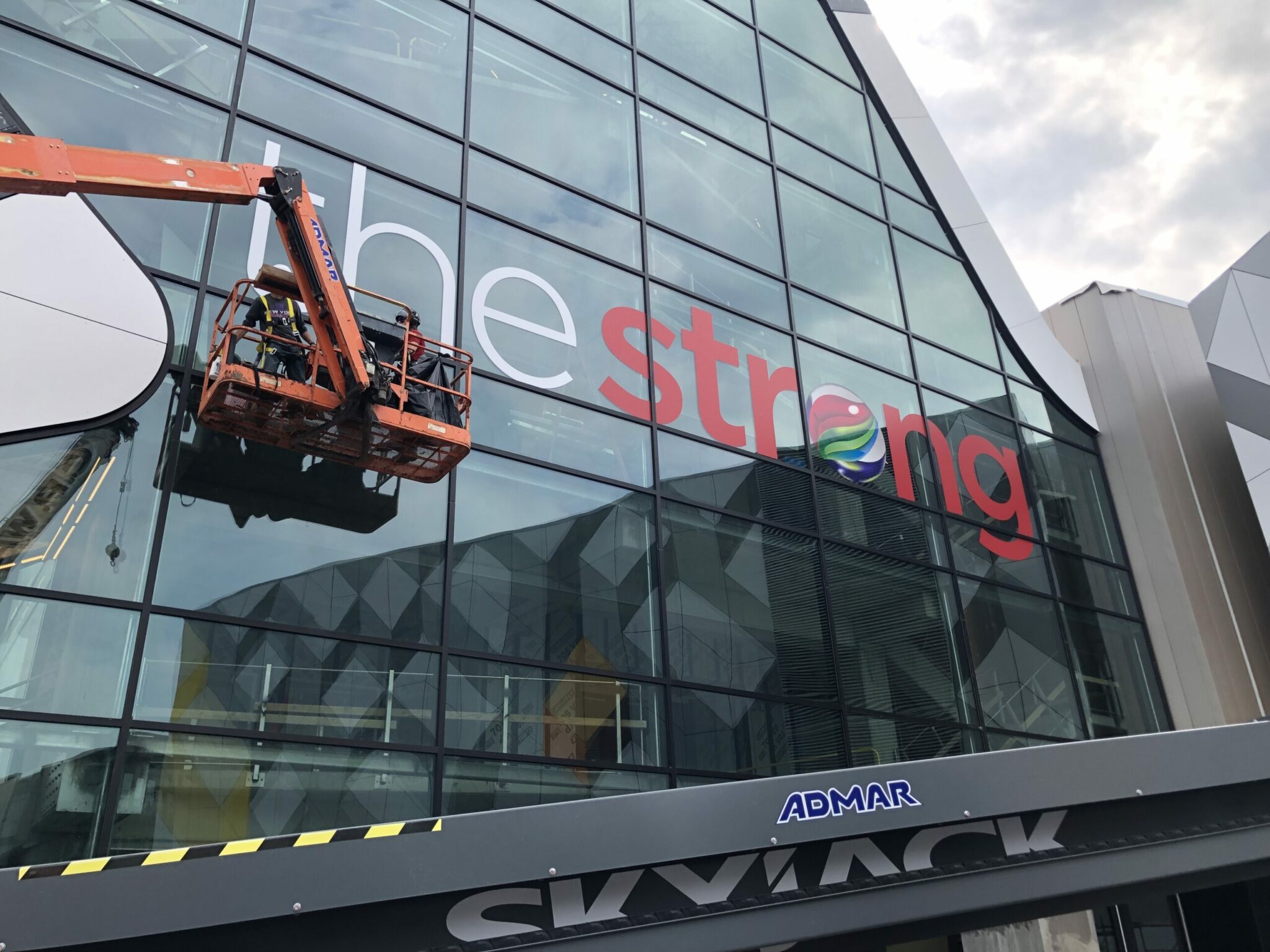 "We are very pleased with the signs and your work on this project."
"The Strong Museum of Play turned to ID Signsystems to design and develop the keynote architectural signage elements of their Digital World expansion. Our team worked hard to develop solutions that met the client's budget and timeline, resolved several engineering challenges, and delivered a real Wow factor. This project fed the creative energy that embodies everything that IDS  believes in. We were lucky to have a client at the Strong Museum of Play that shared those values and encouraged us all the way to express ourselves and sign builders and placemakers."
Let's Talk About Your Project